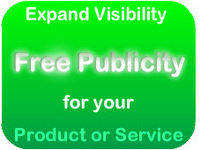 A thoughtful, hand-written note always makes a lasting impression too.
(Vocus) July 30, 2009
Jami Lin, best-selling author and entrepreneur, duplicated Madison Avenue's most valuable, publicity secrets to successfully promote her offerings so she created PR-PRomoPRo.com to help others.
"Spread your message. It is essential business is to educate consumers about products, services, or charitable causes. Articles and interviews are the best motivation to instill consumer confidence. When potential customers read, watch, or listen to news about products or services from a trustworthy source, it stimulates the emotional desire needed for buyers to reach into their wallet."
Green and eco-friendly, without using paper, cutting trees, burning gas, or creating landfill waste, PR-PRomoPRo.com generates target-specific media lists from an up-to-date database of 50,000 contacts--complete with keywords, demographic, and/or media type. Press releases emailed to subject-defined editors, journalists, producers, and bloggers provide up-to-the-minute content that media contacts expect.
"Helping others reach their publicity goals is our top priority," Lin says. We offer marketing tips on PR-PRomoPRo.com too, such as:
1. Convert your specialty into news. Send press releases with educational and entertaining information. Content is, and always will be, king.
2. If you were the reader, viewer, or listener, does the content have enough value to capture your attention?
3. Make the jobs of newspaper and magazine editors, television and radio producers, in addition to web-Bloggers easy! Provide well-written and concise information to use verbatim, take excerpts, and generate interviews. The media is busy and overworked, be considerate of their time.
4. Send press releases out to targeted people that are subject specific. "Dear Sally," lifestyle editor, emailed to sally.jones(at)newyorktimes(.)com is more effective than "Dear bookeditor" sent to bookeditor(at)newyorktimes(.)com , which will be likely overlooked.
5. Benefit indefinitely with print, audio, video, and web publicity. Make reprints of newspaper and magazine articles for handouts. Expand Internet visibility and search engine optimization by posting scanned articles, audio recordings, and videos on website or blog.
6. Be consistent with sending quality press releases and be available for short-notice interviews. Establish relationships. "Many journalists call me when needing design or lifestyle content because I am accessible and always prepared to provide tips," says Lin. "A thoughtful, hand-written note always makes a lasting impression too."
About us
PR-PRomoPRo.com is a contact research and press release distribution service committed to helping others create publicity and spread their message in the most affordable, effective, and eco-responsible way.
Jami's media section provides the press with valuable, tailor-made content in: Lifestyle/General Interest, Family/Children, Business Success, Home/Garden, Health: Body, Mind, Energy Medicine, Youth-Enhancing Secrets, and Human Spirit/Awareness.
Jami Lin (JamiLin.com) is a 30-year veteran of interior design. This expertise evolved into Feng Shui (Feng-Shui-Interior-Design.com), six best-selling books, an online home-study certification program, and star of a recent PBS pilot. Her new, award-winning ColorAlchemy book (ColorAlchemy.com), is heralded as "advanced thinking for infinite possibilities."
Jami is available for interviews on short-notice.
###