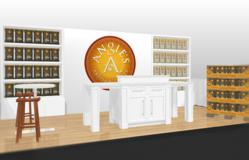 Our display by nParallel makes our brand shine
Minneapolis, MN (PRWEB) April 05, 2012
nParallel announced its selection by Angie's Artisan Treats, LLC to build the company's first tradeshow exhibit. nParallel is a full-service agency that creates, crafts, and takes charge of displays and fixtures designed to establish brands in tradeshow, retail and corporate environments. Rising in the ranks as an entrepreneurial success story and led by husband and wife founders Angie and Dan Bastian, Angie's Artisan Treats is a fast-growing company in the salty snacks category. As its brand continues to grow, Angie's needed a display to introduce its new snacks at natural product and food industry tradeshows.
"Carbon Collaborative gave us initial design concepts and recommended nParallel as a design-build agency," said Angie Bastian, co-founder and president, Angie's Artisan Treats. "After meeting with nParallel, our marketing team had confidence in them."
"Angie's had a tight time line for their project, and that was a challenge," said Megan Diamond, president, nParallel. "We built a display with the clean, classic look of a gleaming white kitchen, with flexibility in size and configuration options."
Angie's Artisan Treats displayed their popular product line of Angie's Kettle Corn, and introduced new products, at the Natural Products Expo West Trade Show, March 9-11, 2012 in Anaheim, Calif. It was their first time exhibiting in their new booth by nParallel.
"The white walls and counters in the design give our display a bright, clean feeling. Visually, it puts the emphasis on the graphics that feature our products," said Angie Bastian. "The display made our brand shine at the show."
About Angie's Kettle Corn
Husband and wife entrepreneurs Dan and Angie Bastian founded Angie's Kettle Corn in 2001 as a family-run, outdoor vendor operation. Today, Angie's (headquartered in North Mankato, Minn.) has increased in sales and popularity, moving the operation from outdoor festivals and events to a production facility with expanded distribution. Angie's Kettle Corn is real food, made with highest-quality, all-natural ingredients. Angie's Classic, Caramel and Lite flavors are distributed to 50 states and found in locations that include Costco, SuperTarget, Target and Whole Foods as well as in co-ops, health food stores or ordered online. More information is available at http://www.angieskettlecorn.com. Follow Angie's on Facebook at http://www.facebook.com/angieskettlecorn or Twitter @AngiesKettle.
About nParallel
Marketers and retailers know that displays and fixtures establish their brand experience, engage customers, and drive sales – if they are designed with imagination, skillfully crafted, and managed intelligently. Too often, unfocused planning, uneven execution and unexpected costs squeeze the creative spark out of their most compelling concepts. Their alternative is nParallel, the full-service agency that creates, crafts and takes charge of displays and fixtures designed to embody brands. Whether the venue for connecting with customers is a show, a store or a headquarters, the pros at nParallel fulfill the big-picture vision with a sharp eye focused on the small details of disciplined production and meticulous program management. For excellence without compromise, count on nParallel (http://www.nparallel.com).
###