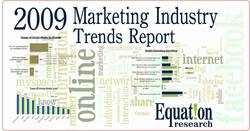 Pleasantville, NY (PRWEB) August 18, 2009
The 2009 Marketing Industry Trends Study is unique in that Equation Research opened up survey development to the Marketing Community - drawing the survey questions directly from marketers. The feedback was outstanding, spurring diverse and thoughtful questions. Over 1,450 marketers representing clients (brands), agencies, consultants and non-profits responded to the survey.
And while the crowdsourced approach to research may be the most ground-breaking aspect of all, the study delivers important findings that confirm the growing significance (and momentum) of social media and digital marketing tactics. Some of the key findings include:
Social media adoption rates - The adoption of social media is well past critical mass--with nearly two thirds of brand marketers (59%) currently implementing social media in their marketing plans.
Tools and platforms - Facebook, Twitter, online video and blogs are the 4 most popular social media tools. Yet none of these are being used in isolation--on average, there are 5 to 7 other social media tools being either actively used or dabbled with by marketers at the same time.
Current marketing spend - While traditional media channels account for the largest proportion of marketing spend, Online, Search and Social Media as a group are approximately a third of all current spend. For smaller companies, this increased to over 40%.
Forecasts in spending - Looking towards 2010, brand marketers forecast a shift in spend towards digital tactics, feeling the areas most likely to increase will be Social Media (60%), Online Advertising (53%), Search Engine Advertising (49%) and Email Marketing (41%).
Mobile marketing - While current adoption of Mobile Marketing is low (only 11% of brand and agency marketers had it as a line item), there is interest in experimentation.
Uses of market research - Online ad testing is the type of research most likely to increase in the near future, with a third of marketers planning to spend more in this area.
For additional information and to download a copy of the 2009 Marketing Industry Trends Study, please click here - Equation Research 2009 Marketing Industry Trends Report
About Equation Research
Equation Research manages the primary research needs of an extensive list of Fortune 1000 companies. Equation relentlessly pursues smarter research ideas, better technology, and the best people to bring their clients results that work.
About our Partner - Authentic Response
Authentic Response was a key contributor in helping to target high level marketing executive respondents. Since 1998, Authentic Response has led the market research industry with best of breed solutions for global online sample, including its Authentic Recruitment panelist recruitment technique, its patented double opt-in permission standards, and its Authentic Validation techniques to ensure the most legitimate, secure survey responses.
Contact:
Chris Burke
Equation Research
520.568.8767
http://www.equationresearch.com
# # #