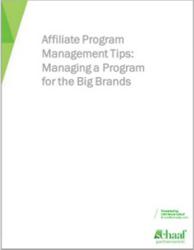 (PRWEB) September 04, 2012
Marketing association, ASM, has recently published a brand new white paper, produced by Schaff-PartnerCentric, called "Affiliate Program Management Tips: Managing a Program for the Big Brands." The white paper can be downloaded free of charge and covers tips and best practices in managing an affiliate program.
Affiliate programs are a great way to earn extra money from your website, but managing the program can be quite challenging. From working with HTML code to writing content, to managing your time and making sales, affiliate program management is not easy.
This complimentary white paper covers brand and trademark protection, getting to know your affiliates, understanding the competition, educating your affiliates, setting goals, managing time effectively, personalizing your communication and more. Marketers who are looking to start a successful affiliate program, or looking to improve their current program, should download this white paper.
This white paper and other training materials from this marketing association can be downloaded by visiting: http://www.associationofmarketing.org/whitepapers/a/affiliate-program-management-tips?c=459
About the Association of Strategic Marketing:
The Association of Strategic Marketing (ASM) is a training and development website dedicated to the enhancement of the marketing profession. ASM is committed to the specific educational and developmental needs of members looking for unique, up-to-date marketing training opportunities through audio conferences, seminars, webinars and articles. ASM members also gain access to product offerings and other educational tools that assist in securing their position at the forefront of their respective disciplines. ASM delivers an overall experience that gives their community of marketing professionals a distinct competitive advantage.