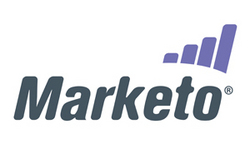 With such rapid growth over the past year, now is the time to invest in the right people to help continue our incredible success
San Mateo, CA (Vocus) June 3, 2010
Marketo, the leading revenue cycle management company, today announced a series of executive hires. The new senior executive team includes Nick Bonfiglio, Vice President of Operations; J.D. Peterson, Vice President of Products; and Josh Aberant, Director of Privacy. Additionally, Glen Lipka, the first Marketo employee, has rejoined the Marketo team as the new Senior Director of User Experience.
"With such rapid growth over the past year, now is the time to invest in the right people to help continue our incredible success," said Phil Fernandez, CEO of Marketo. "We are thrilled to have Nick, J.D., Josh and Glen joining Marketo during this very exciting time within our organization. All four hires will help cement Marketo's leadership position in the marketing automation space and further our customer's success in turning marketing from a cost center to a revenue generator."
This news comes on the heels of Marketo announcing a $10 Million series D round of funding, surpassing the 500 customer mark in just two short years, and the release of its new Revenue Cycle Analytics line of products.
As the new VP of Operations, Nick Bonfiglio brings 18 years of experience in information technologies, engineering and customer service. Nick will be responsible for designing and implementing strategies to dramatically increase the performance, scalability and efficiency of Marketo's cloud services and on-going customer success, and all aspects of cloud delivery and operations.
Prior to Marketo, Bonfiglio managed revenue generating data centers for other leading companies including, CollabNet, Portera, 3DO and Phoenix.
J.D. Peterson's new position as Vice President of Products will make him responsible for delivering on the Marketo vision to provide customers the most innovative technology to turn marketing into a revenue driver and deliver improvements in sales effectiveness and predictable revenue.
Previously, Peterson was Vice president of Products at Lyris, an online marketing company and a pioneer in the email marketing space. Prior to Lyris, Peterson held management positions at Instill (now iTradeNetwork), ViewCentral (now RainMaker), Microsoft, and Hotmail.
Glen Lipka will take on the role of Senior Director of User Experience. In this role, Glen will set the tone for Marketo user experience balancing usability and functionality with ease of use. His long term history and unique insights have made him a recognized thought leader within the experience community. Before his previous position at Marketo, Lipka founded and ran Koko Interactive, a web development company based out of New York, New York.
Josh Aberant joins Marketo as the new Director of Privacy. With an intense focus on best practices implementation and compliance, Josh and his team will enable customers to develop long lasting marketing programs that benefit all the stakeholders within a company's ecosystem.
Prior to joining Marketo, Aberant led the privacy and deliverability teams at leading Email Service Providers including Lyris, EmailLabs and Topica. With over 16 years of experience at email deliverability, marketing automation and eCommerce technology companies, Josh has been involved in the success of many early stage startups and has a deep understanding of the tools organizations need to be successful.
About Marketo
Marketo is the revenue cycle management company, revolutionizing how marketing and sales teams of all sizes work — and work together — to accelerate predictable revenue. Marketo's solutions are both powerful and easy to use, providing explosive revenue growth throughout the revenue cycle from the earliest stages of demand generation and lead management to deal close and continued customer loyalty.
Marketo Lead Management helps marketers acquire, nurture and qualify more high quality sales leads with less effort; Sales Insight helps sales understand, prioritize and interact with the hottest leads and opportunities to close business faster; and Marketo Revenue Cycle Analytics enables marketers to measure, optimize, and forecast the revenue cycle. Marketo won the 2010 CODiE award for 'Best Marketing Solution' and was voted 'Best Marketing Automation Application' and 'Best Mass Emails Solution' by Salesforce customers on the Force.com AppExchange. As of April 2010, more than 500 enterprise and mid-market clients in 14 countries have selected Marketo.
# # #