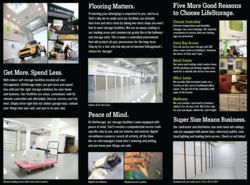 For LifeStorage, the end of the campaign is just the beginning of its marketing strategy.
Chicago, IL (PRWEB) October 28, 2011
LifeStorage, Chicago self storage provider for home and business, records management and office solutions, recently completed its first ever advertising campaign, promoting on local television network WGN and on all Chicagoland CBS radio stations. Focusing on residential customers, the campaign launched in June and completed a four-month period designed to expand brand exposure and keep pace with LifeStorage's rapid expansion. Since November 2010, LifeStorage has grown by 70%, increasing from 10 to 17 locations.
Smbolic, a strategic design and innovation firm with locations in Chicago, Atlanta, and Vancouver, initially helped to create the LifeStorage brand and logo in 2002. When LifeStorage decided to produce a multimedia marketing campaign, Smbolic made the most sense based not only on its familiarity, but also its shared vision of how to market to the correct groups and deliver the clearest message. Settling on three key demographics – young renters, growing families, and empty nesters – the commercials aimed to maintain a human element while highlighting LifeStorage's personal approach to storage and value-added products.
"We created the Life Storage brand a number of years ago, so our knowledge of the company and marketplace helped in jump-starting this program without a steep learning curve," said Greg Samata, one of three partners of Smbolic. "There was a need to bring an upscale LifeStorage brand message to the Chicago marketplace in general. By having that message carried by young professional people identifying with real-life situations, we were going directly to this demographic with a fresh modern message."
"Life Storage markets a higher esthetic than most storage companies and delivers services that this group is interested in, i.e.: Starbucks coffee and clean, modern facilities. So our decision was to shoot the commercials in almost a fashion sense, to target them directly," Samata said.
For LifeStorage, the end of the campaign is just the beginning of its marketing strategy. Iwona Lach, Marketing Coordinator for LifeStorage, has been instrumental in increasing the company's web presence. LifeStorage offers customers Twitter updates, has its own Facebook page with announcements and promotions, and a weekly blog offering newsworthy bits and helpful storage ideas. Lach mentions that the campaign will run again next year and based on the feedback, sees this as a stepping stone to an even stronger brand and new marketing avenues.
"It's hard to measure the immediate effects of a multi-tiered campaign, but we have more and more people approach us and mention that they've seen or heard it now that the initial run is over. Certainly the campaign has helped from branding perspective. We feel in the long run, people in Chicago will continue to associate modern, affordable storage with the name LifeStorage," Lach said.
###