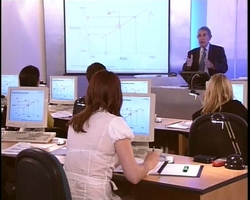 The Oxlearn video series offers brilliant marketing lectures in an innovative, accessible way.
(PRWEB) April 13, 2010
Strategic brand management training as always been associate as something available only to a restricted number of MBA or ivy league universities students.
Prof. Leslie De Chernatony knows it very well, teaching and consulting worldwide for top universities and brands.
So when Oxford Learning Lab offered him the opportunity to devise and deliver a complete series of brand marketing courses online, for Leslie the decision was a no-brainer.
The launch of Leslie's new book "From brand vision to brand evaluation" proved a perfect time to video Leslie running a highly interactive training session, expertly showing the application of his frameworks to numerous brand examples in a clear and enthralling manner.
Using online video captured the impact of Leslie's insightful training. Oxlearn's top quality production studio and distribution platform perfectly met his needs of reaching a much wider audience so they could appreciate the detail of strategic brand management.
As knowledge of strategic brand management (and strategic marketing in general), has become critical to business success, companies, universities and individuals need an easier and cheaper method to access top quality training. Oxlearn's partnership with internationally respected thought leaders provides a solution through its high quality videos.
Before Leslie other top marketing strategist embraced the use of online videos with Oxlearn, such as Prof. Malcolm McDonald (marketing planning), Laurie Young (service marketing), Chris Fill (marketing communication) and Beth Rogers (key account management).
Oxlearn.com also boast a highly viewed YouTube channel OxfordLearningLab, where people can enjoy Leslie's and other speakers lectures.
About Oxlearn.com
Oxford Learning Lab brings top business school professors and trainers to you, through an amazing series of marketing videos. Our speakers are working in MBA and Universities programs with establishments like Wharton, Madrid, Cranfield, Warwick , Aston, Portsmouth to mention just a few and they are consulting for FTSE100 and Fortune 500 companies.
About Prof. De Chernatony
The Chartered Institute of Marketing cite Prof Leslie de Chernatony as one of the 50 gurus who have shaped the future of marketing. This is because of his pioneering work on brand management which has an international reputation. His cutting edge work on strategically building brands has helped organisations develop more effective brand strategies.
###