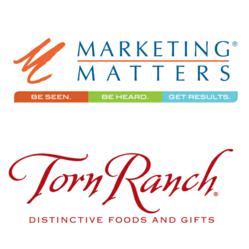 "In selecting Marketing Matters, we were extremely impressed with the results the agency has brought to its clients." -- Deana Kay, executive vice president of Torn Ranch
Hollywood, Fla. (PRWEB) May 10, 2012
Marketing Matters, a strategic integrated public relations, marketing and advertising agency, has been named the agency of record for Torn Ranch, a California-based manufacturer and purveyor of gourmet specialty foods. Marketing Matters will work with Torn Ranch to develop, implement and manage B2B and consumer-focused public relations and social media activities to build additional awareness of Torn Ranch's chocolates, baked goods, dried fruits and nuts. Additionally, Marketing Matters will assist Torn Ranch with the development of new marketing materials including new product branding and packaging design, product sell sheets and digital marketing assets.
"Torn Ranch has proven to be a leader and guiding innovator in the gourmet food and gift industry," said Coleen Sterns Leith, president of Marketing Matters."We look forward to working with a company that shares our same commitment to delivering great products and superior services."
"In selecting Marketing Matters, we were extremely impressed with the results the agency has brought to its clients," said Deana Kay, executive vice president of Torn Ranch. "In just a short time into our campaign, their public relations and marketing integration has proven to be a single source we can turn to for marketing and PR solutions. We're very excited about building this new relationship."
For over 30 years, Torn Ranch has provided premium quality foods and distinctive gifts using only the finest ingredients. Torn Ranch's kitchens host the nut roastery and the bakery, where its famous Mashuga Nuts and Gigi Biscotti are made fresh daily. Using the finest all-natural ingredients, the company's artisans produce exquisite truffles, uniquely infused chocolates, and other confections in its factory in Petaluma, Calif.
About Marketing Matters
Founded in 1997, Marketing Matters is a full-service integrated marketing communications agency based in Hollywood, Florida. The agency offers turnkey management and high quality marketing materials and services, helping its clients manage their brands effectively and in turn expand their market presence. Among Marketing Matters' specialized services are: public relations, advertising, programs and product launches, and the design of promotional materials that range from a single page flyer to a monthly newsletter or a sophisticated, glossy, custom-published consumer magazine. Marketing Matters also provides full trade show and event management, Web site design and development, corporate identity development and other services that ensure successful branding and realization of marketing objectives.