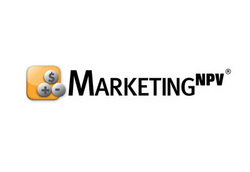 With more and more senior executives wanting proof of marketing payback, the Marketing Measurement Today webcast series offers marketers strategic insight into how they can make this a reality
Princeton, NJ (PRWEB) August 28, 2008
MarketingNPV hosts Marketing Measurement Today, a webcast series focusing on marketing performance measurement. Hosted by MarketingNPV partners and presented in association with SAS and BetterManagement.com, the monthly webcasts are designed to provide senior marketers with the information they need to help meet the challenges of marketing measurement and resource allocation. Featuring 30-minute sessions, Marketing Measurement Today offers tactical approaches to marketing measurement.
"With more and more senior executives wanting proof of marketing payback, the Marketing Measurement Today webcast series offers marketers strategic insight into how they can make this a reality," offers Pat LaPointe, managing partner of MarketingNPV and editor of MarketingNPV Journal, a quarterly publication featuring the latest in marketing metrics, marketing resource allocation and marketing performance measurement.
Upcoming events are scheduled for the second Tuesday of every month through 2008. Topics will include: Technologies for Marketing Dashboards; Selecting Your Key Marketing Metrics; and 10 Ways to Improved Marketing Measurement in the Coming Year. For more information or to register for these events, please visit http://www.marketingnpv.com/about/webcasts/marketingmeasurementtoday.
Topics previously covered in the series that are currently available for archive viewing include: 10 Things to Teach your CFO About Measuring Marketing Effectiveness; Moving Beyond the Marketing Mix Model; How to Create a Simple but Effective Brand Scorecard; B2B Marketing Measurement Solutions; What's Holding you Back? A Guide to Overcoming the Obstacles to Effective Marketing Measurement; Emerging Marketing Metrics; Improving the Payback on your Portfolio of Marketing Initiatives; What to Cut? How to Pick Your Spots When the Budget Axe Looms; Bridging Short- and Long-Term Payback in Marketing Measurement; Marketing Resource Allocation; and Five Ways to Improve the Quality of your Forecast.
Archived recordings of each installment are available for viewing at http://www.marketingnpv.com/about/webcasts/marketingmeasurementtoday
MarketingNPV is a highly specialized advisory firm that links marketing expenditures to financial value creation, providing continuous improvement in the effective and efficient allocation of marketing resources. The firm uses processes and tools tuned to measure the payback on marketing investments, track the right performance metrics, and forecast the economic impact of changes in strategy or tactics. MarketingNPV maintains the world's largest online archive of articles and resources about marketing measurement, and publishes MarketingNPV Journal quarterly.
Marketing Measurement Today is a service mark of MarketingNPV.
Marketing Measurement Today webcast series is produced in conjunction with SAS and BetterManagement.com.
###