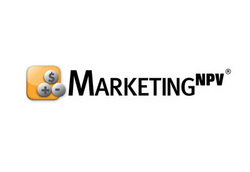 Three Magic Words That Unlock Stalemates of Power and Politics in Marketing
Princeton, NJ (PRWEB) July 23, 2008
This time of year, most companies are again struggling to determine their marketing budgets and make decisions regarding marketing resource allocation much in the same way as they have for the last 20, 30, or 40 years.
The new issue of MarketingNPV Journal examines the challenges inherent in the annual rites-of-marketing budgeting, and proposes seven solutions for immediately improving the marketing budgeting process. The cover story, "Marketing Budgets: New Planning Cycle, Same Old Insanity", explores how several emerging practices can breathe life into the antiquated marketing budgeting process.
"In most corporate budgeting processes, marketing is a passive player," said Pat LaPointe, publisher of MarketingNPV Journal. "Instead, marketing should drive the marketing budget. CMOs need to provide a new direction, to break away from the tired approach of basing marketing budgets on historical spend levels and move to a marketing model where the marketing budget allocation process is driven by market considerations and not internal politics."
The latest issue of MarketingNPV Journal also features "Three Magic Words That Unlock Stalemates of Power and Politics in Marketing," which explores the corporate misinterpretation between the power of perceived vs. actual marketing knowledge. The article "Has Marketing Measurement Stalled?" proposes solutions to jump-starting a stuck marketing measurement process and gives tips to provide relevancy to your marketing dashboard or marketing scorecard. And finally, in the latest installment of the Measured Thoughts webcast series, a leading packaged goods company CMO discusses with MarketingNPV partner Dave Reibstein the need for continual marketing measurement and improved marketing metrics; the challenges of re-sequencing marketing's role around customers; and the importance of balancing short- and long-term objectives.
Copies of the new issue, along with four full years of back issues, can be viewed and downloaded FREE from http://www.MarketingNPV.com.
MarketingNPV is a highly specialized advisory firm that links marketing expenditures to financial value creation, providing continuous improvement in the effective and efficient allocation of marketing resources. The firm uses processes and tools tuned to measure the payback on marketing investments, track the right marketing metrics, and forecast the economic impact of changes in strategy or tactics. MarketingNPV maintains the world's largest online archive of articles and resources about marketing measurement, and publishes MarketingNPV Journal quarterly.
Contact:
Tina Anagnostis
(908) 439-2891
###