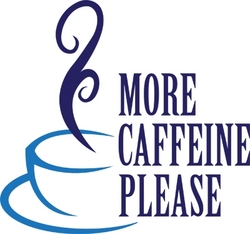 "There is no way that I could ever repay those who helped my business this first year, but I want to give back in some way. By giving free consultations, I am hoping that I will be able to help businesses in the same way that my mentors and advisors have
Northfield, NJ (PRWEB) December 1, 2009
More Caffeine Please, a marketing consultant firm, is celebrating its one year anniversary by offering free 20 minute marketing plan consultations to the first 20 small business owners and marketers who register.
Perhaps the most important function of any business is the ability to get in front of qualified customers who are willing to buy the products and services they offer. Paying customers are the lifeline to the success of any business.
"There is no way that I could ever repay those who helped my business this first year, but I want to give back in some way. By giving free consultations, I am hoping that I will be able to help businesses in the same way that my mentors and advisors have helped me," said Greg Digneo, founder of More Caffeine Please.
In this free 20 minute consultation, small business owners and marketers will:

Receive strategies to get their business in front of their customers using both online and offline marketing tactics
Determine how to differentiate their from the competition
And learn to grab their customers' attention
Business owners who are interested in having a marketing plan created for them can register online at Consultation.MoreCaffienePlease.com.
Often, small business owners want to use the newest tool or the latest tactic without having a solid marketing plan. This lack of direction may end up costing time and money that the business cannot afford to lose.
Greg adds "Many business owners want to know if they should blog, or send out a sales letter, or take an ad out in the newspaper hoping that one of these tools is the magic pill. While each of these tools might work, they are simply one part of the overall marketing plan."
About More Caffeine Please
Established in 2008, Greg Digneo founded More Caffeine Please to help small businesses market their products and services. The firm's services include showing businesses how to differentiate themselves, get in front of customers, and grab their customer's attention.
More Caffeine Please does this by producing interesting content that guides customers through the sales funnel and measures the success of the marketing campaign.
###