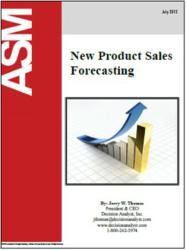 (PRWEB) August 30, 2012
Marketing training provider, the Association of Strategic Marketing, recently published a brand new white paper written by Jerry W. Thomas, President and CEO at Decision Analyst, Inc., which will help marketers forecast year-one sales of new consumer packaged products.
The development and introduction of a new consumer packaged product is an inherently risky venture. Many corporate executives' careers have foundered on the rocks and shoals of new product launches.
In an effort to reduce the risks associated with new products, the forecasting of year-one sales has become an established practice within the marketing research industry. Despite many claims of high precision, forecasting sales of new products is fraught with risks, and estimates often are off the mark. The risk of great error is particularly high for new products that represent a paradigm shift. That is, something fundamentally new and different.
The white paper and other marketing training can be downloaded free of charge by visiting http://www.associationofmarketing.org/whitepapers/a/new-product-sales-forecasting?c=459
About the Association of Strategic Marketing:
The Association of Strategic Marketing (ASM) is a training and development website dedicated to the enhancement of the marketing profession. ASM is committed to the specific educational and developmental needs of members looking for unique, up-to-date marketing training opportunities through audio conferences, seminars, webinars and articles. ASM members also gain access to product offerings and other educational tools that assist in securing their position at the forefront of their respective disciplines. ASM delivers an overall experience that gives their community of marketing professionals a distinct competitive advantage.