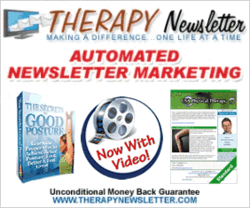 Transmit the newsletter to hundreds of doctors with the push of a button using the integrated fax capability, allowing flood community with message and content.
Denville, NJ (PRWEB) April 02, 2012
A new approach to build expert status instantly was created for busy professionals. Private practice owners can take advantage of the service of Therapy Newsletter, a company that specializes in automated print, email and faxed newsletters and email marketing system. Every month, two professional and informative newsletters are delivered automatically to patients who have signed up – and the private practice or hospital does not have to research, write or send a thing.
In order to respond to the ongoing and often specialized marketing needs of physical therapy businesses, Nitin Chhoda, a physical therapy marketing expert, created the Therapy Newsletter. Marketing in today's medical industry can often be highly competitive, as well as expensive. Private practices often reply on word-of-mouth referrals or small ads that can be placed within their local area in order to gain new referrals or patients. Chhoda has created a latest, groundbreaking alternative to the traditional marketing avenues and opened up a new, wider market demographic to many private practices.
Chhoda, being a licensed physical therapist himself, has taken his knowledge in internet marketing and combined his two areas of expertise to create a product that has helped private practices to increase business and connect with clients. With the Therapy Newsletter, private practices get to directly connect with clients without having to manage a mailing list or figure out complicated e-mail templates or online physical therapy marketing systems.
Every content rich newsletter is specifically engineered to promote internal referrals. The built-in 'refer a friend' feature in each newsletter dramatically stimulates exponential, viral growth of a brand. Transmit the newsletter to hundreds of doctors with the push of a button using the integrated fax capability, allowing flood community with message and content.
"This is an excellent web-based marketing system for physical therapists" Says Francine Noel-Ford, PT, DPT of Back to Basics Physical Therapy, "It helps remind the community about the importance of physical therapy and its benefits"
Charmaine Azeez, another client at Physicians Choice Rehab says that the therapy newsletter is well overdue to the medical industry because it provides a perfect and low cost way of staying in front of the patients despite busy schedules which get tighter and more hectic by the day.
Current members can re-use the content on physical therapy websites, newspaper columns, patient handouts since they own the copyright to the content of the newsletters sent to their patients. The content is well written by professional writers who understand medical terminology as well as how to market to a specific demographic.
Chhoda's office can be reached by phone at 201-535-4475. For more information, visit his website at http://www.nitin360.com/.
About Nitin Chhoda:
Nitin Chhoda is a licensed physical therapist, a doctor of physical therapy, and a certified strength and conditioning specialist. He's the author of "Total Activation: The New 5 Step Fitness Mantra" and "Marketing for Physical Therapy Clinics." He's been featured in numerous industry magazines, major radio and broadcast media, and is the founder of Referral Ignition training systems, Private Practice Summit, the Private Practice Formula and the Private Practice Mastermind group. Chhoda speaks extensively throughout the U.S., Canada and Asia. He's the creator of the Therapy Newsletter, along with Clinical Contact, a web-based service that boosts patient arrival rates.