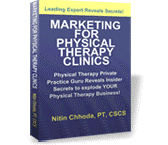 Provide a service that's so viral that it becomes a talking point and automates your marketing.
Denville, NJ (PRWEB) April 19, 2012
"Mistakes in your practice can be lethal," said Chhoda. "The best systems for increasing patient numbers and revenues come in unconventional, casual settings. Step out of your comfort zone and don't fall prey to so-called experts that know nothing about your business and the challenges you face."
Physical Therapy Consultants
Caught up in the everyday realities of operating a practice, many professionals believe the only solution for marketing physical therapy business successfully lies in the hands of expensive marketing consultants. They charge thousands of dollars, promise unrealistic referral numbers, and offer unattainable results. Chhoda noted that innovative ideas and cutting edge systems such as Clinical Contact and Therapy Newsletter obtain results quickly. The systems provide a myriad of cost effective solutions and can be used to help identify potential patients before they realize they need services.
Specialize and Stand Out
Trying to be all things to all people will quickly lead to burnout and exhaustion. Chhoda said it's imperative to have a service, treatment or program that sets practice owners apart from their competition. "Provide a service that's so viral that it becomes a talking point and automates your marketing," said Chhoda. "Niche programs are undervalued by practice owners and overvalued by patients."
Push Versus Pull Marketing
Chhoda noted that one of the biggest mistakes physical therapy business owners make, and one that's easily avoidable, is telling patients, physicians and referral sources how wonderful they are. Offering an irresistible incentive, such as a free eBook or brochure, helps professionals in all medical fields build a reputation as a friendly authority. Publications can be delivered as physical copies in waiting rooms or as a free download. Materials can be personalized with the professional's contact information and copies delivered online are an excellent method of obtaining contact information.
Practice owners don't have to spend exorbitant amounts or invest in time-intensive methods to market practice successfully with Chhoda's new Top 3 list. Offering a specialized service, using state-of-the-art systems and providing free information utilizes new and traditional methods of reaching potential patients, while avoiding the three most common mistakes owners make when trying to market practice in the new economy.
Chhoda's office can be reached by phone at 201-535-4475. For more information, visit his physical therapy website.
ABOUT NITIN CHHODA
Nitin Chhoda is a licensed physical therapist, a doctor of physical therapy, and a certified strength and conditioning specialist. He's the author of "Total Activation: The New 5 Step Fitness Mantra" and "Marketing for Physical Therapy Clinics." He's been featured in numerous industry magazines, major radio and broadcast media, and is the founder of Referral Ignition training systems, Private Practice Summit, the Private Practice Formula and the Private Practice Mastermind group. Chhoda speaks extensively throughout the U.S., Canada and Asia. He's the creator of the Therapy Newsletter, along with Clinical Contact, a web-based service that boosts patient arrival rates.
###