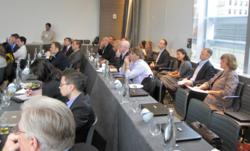 As a brand marketer I have tremendous appreciation for Vizu putting the spotlight on Brand Advertising Effectiveness.
- Aaron Fetters, Associate Director of Global Strategy and Analytics, Kellogg's
San Francisco, CA (PRWEB) December 14, 2011
Vizu Corporation (http://www.brand lift.com), an online ad technology company whose solutions allow advertisers and publishers to measure and optimize Brand Lift in real-time, today announced key findings from its 2012 Customer Advisory Board Meeting, which brought together senior executives and media industry visionaries from leading brand advertisers, agencies, networks, and publishers.
"As a brand marketer I have tremendous appreciation for Vizu putting the spotlight on Brand Advertising Effectiveness," said Aaron Fetters, Associate Director of Global Strategy and Analytics at Kellogg's. "I was most surprised and pleased by the fact that representatives across all components of the online media supply chain came together for a day to specifically discuss online media's ability to drive brand awareness and impact vs. a typical discussion on direct response. I applaud Vizu in making this happen and look forward to the positive impact such discussions can have on our industry."
The meeting focused on key opportunities and challenges facing the online media industry around brand advertising, highlighted through discussions led by senior executives from brand advertisers and a variety of companies in the online advertising ecosystem, including Audience Science, Compass Point Media, FRWD, Glam Media, Horizon Media, Liverail, Sharethrough, Specific Media, Tribal Fusion, Undertone, ValueClick, and WPP Team Detroit. Key areas of focus discussed and conclusions reached included:
Moving beyond measurement: Leveraging real-time data to maximize the value of online advertising

Attendees unanimously agreed that direct-response metrics are a poor proxy for consumer opinion, and that the industry needs to shift to using true brand metrics for measuring and optimizing brand advertising
Several case studies shared by attendees showed that real-time Brand Lift data can be used to significantly improve the results from online brand advertising campaigns, in the range of 20-80%+
Attendees also noted the criticality of collecting sufficient data quickly enough to make statistically sound decisions, and the resulting importance of focusing analytics around the primary marketing objective of the campaign
"It was great to hear people representing companies from every segment of our industry sharing best practices for getting the most out of online brand advertising," said Denise Zaraya, Vertical Strategy Director at ValueClick. "The fact that everyone in our ecosystem is rallying around Vizu as a standard platform for leveraging real-time Brand Lift data for accomplishing this is a great testament to what they've built."
Taking the next step: Improving collaboration between media sellers and media buyers

Several presentations highlighted that the best possible outcomes for brand ad campaigns cannot be achieved when media buyers and media sellers are working in silos, referencing disparate data, or optimizing to different metrics
Case studies reviewed during the meeting showed material gains can be achieved when everyone is looking at the same data, in the same system, in real time, and jointly making decisions to improve campaign performance
Attendees agreed that direct collaboration between media sellers and media buyers to optimize online brand advertising campaigns is key to maximizing advertisers' return on their brand investment
"Marketing success today is minute by minute, and our solutions and partners are built for that reality," said Aimee Reker, Partner at FRWD. "We're constantly evaluating solutions that help FRWD's clients build brands and drive trial. This meeting, and the Vizu technology overall, enabled us to all dig in, roll up our sleeves and collaborate directly on what's working and where we can improve, specifically and collectively."
The Value in Video: Maximizing Brand Lift in advertising's hottest medium

Advertisers in attendance shared their opinion that video is exploding because of a number of factors coming into alignment, including ongoing standardization of video serving technologies, a growing diversity of video ad formats, brand-appropriate metrics to determine performance, and increased reach
Advertisers also agreed that, as a result of these trends and the continued movement of consumers online, brands are beginning to shift TV dollars to online video, and that this trend will likely continue in 2012
Case studies reviewed during the meeting showed another reason for the growth in video advertising. Unlike standard ad units which require higher exposure rates to achieve the desired outcome, video is often a single-exposure performer, making it an overall better return on investment
"Video is inherently a branding medium, and like all other brand advertising requires appropriate metrics to measure and optimize its performance," said Ken Solano, Supervisor Brand Strategy at Horizon Media. "Vizu provides the industry with a standard around which to do just that – which is why you see so many of us here talking about it."
Publishers attending the event also shared several case studies highlighting the means by which they leverage real-time Brand Lift metrics to prove the brand-building potential of their properties and maximize brand advertising sales.
"Vizu's solutions provide the proof-points we need to attract brand ad dollars," said James Kreckler, VP of Digital at Rodale. "And like this event, they provide a unique opportunity for us to interact directly with advertisers to ensure they get the most bang for their brand advertising buck."
Added Dan Beltramo, Vizu's CEO, "We're proud to provide the standards and the technology that allows advertisers and their partners in the digital media ecosystem to collaborate in real-time to maximize the value of their online brand-building efforts. The attendance and open exchange of ideas we saw at this meeting is indicative of the progress we've made – people are realizing there's a better way to do things, and are starting to embrace that potential."
Vizu Corporation (http://www.brandlift.com) brings the same metrics used to measure and optimize brand advertising effectiveness in the offline world to the online medium. By providing the first real-time, enterprise technology platform that allows brand advertisers and their partners in the digital media ecosystem – publishers, ad networks, exchanges, and demand side platforms – to collaborate around measuring and optimizing Brand Lift metrics, Vizu enables its customers to move their target audience through the purchase funnel, from building awareness to creating intent and preference. Vizu's brand advertising effectiveness platform is used by over 60% of Advertising Age's Top 100 Brand Advertisers and Comscore's Top 50 Media properties to support all key aspects of the advertising lifecycle, including media buying, audience profiling, and Brand Lift optimization.
###