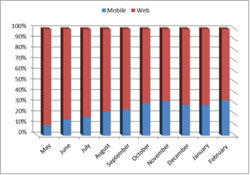 Our mobile applications were constructed in combination with features essential to complement the overall trading experience
London (PRWEB) April 11, 2013
MarketsPulse first launched native mobile applications for iPhone and Android over a year ago, followed by the launch of an HTML5-based trading website to support tablets. As in many industries, mobile trading was inevitable, but time has proven that MarketsPulse's enterprise-class platforms that have user-friendly interfaces are the reason for their clients' success.
As shown in the chart, mobile usage is steadily increasing. In the last 5 months, MarketsPulse clients have seen more than 30 percent of their total trade actions come from the native mobile applications. Interestingly enough, traders using mobile execute 15 percent more trade actions than through web. Furthermore, the average investment amount of mobile trades is 25 percent more than web trades.
These statistics were compiled by the MarketsPulse research team in order to provide their clients with updated information and recommendations, so that each broker can generate an optimal experience for their traders.
Undoubtedly mobile trading is here to stay, and as gathered from the data, Binary Options mobile trading is an important addition which can improve the overall trading experience. "Our mobile applications were constructed in combination with features essential to complement the overall trading experience," says Shay Hamama, VP of Business Development at MarketsPulse.
About MarketsPulse
MarketsPulse is the leading enterprise-class binary options platforms provider that combines great web engineering with a deep understanding of global financial markets. MarketsPulse offers technological solutions for binary options operations, including a stand-alone and a fully integrated solution that is completely installed on-site, providing confidentiality of data and a customizable trading experience. Working with regulated companies worldwide, the technology is ready to be compliant with regulators across the globe. For more information, please visit http://www.marketspulse.com/.