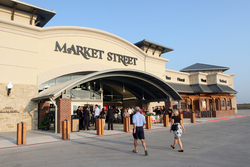 The 50th United Supermarkets store opening is a significant milestone in the company's rich history, and we're excited to bring that joy and excitement to Plano
Plano, TX (Vocus) April 1, 2009
Market Street, United Supermarkets' all-in-one grocery store, continues its North Texas growth initiative with today's grand opening of its new Plano store, located at 1929 Preston Road and W. Park Blvd. With the most recent expansion, United Supermarkets celebrates a milestone with the opening of the company's 50th store.
To highlight the occasion, Market Street's sixth Dallas/Fort Worth-area location opens its doors at 7 a.m. with a special offer of free milk for a year to the first 100 guests in the door, among other grand opening events and activities planned in the coming weeks.
Early Market Street guests are welcome to stay for the ribbon-cutting ceremony at 8:30 a.m. and experience everything the 70,000-square-foot store has to offer.
Market Street Plano is the company's fourth DFW store to open in the past 14 months - almost identical stores have opened recently in Allen, Frisco and Coppell-Lewisville - and sixth overall. The first Metroplex location opened in Colleyville in 2003, followed by McKinney in early 2004.
Like most area Market Street stores, the Plano location includes an in-store health care clinic, sushi bar, full-service meat/seafood counter, Pete's Coffee Shop and a frozen drink/smoothie bar. Market Street Plano also features the supermarket chain's newly expanded Nutritional Tag program that helps guide health-conscious guests to foods that meet their unique dietary needs.
"The 50th United Supermarkets store opening is a significant milestone in the company's rich history, and we're excited to bring that joy and excitement to Plano," said Dan Sanders, CEO of United Supermarkets, LLC. "With this new location, we believe our Market Street banner provides a unique shopping opportunity that no other grocer in the Metroplex provides. Guests can find the everyday groceries they need, along with the gourmet items they want - all at competitive prices. This one-stop shopping experience, coupled with an unparalleled level of service, really sets Market Street apart."
The recently launched nutritional tag program is a good example of the level of service guests can expect at Market Street, Sanders added.
"For guests who are focused on health and wellness, our nutritional tag program serves as a friendly guide that allows them to make informed food decisions to improve health, manage or prevent disease. Now when guests see one of our nutritional tags distinguishing a food item, they have peace-of-mind that our registered dietitians have approved the item for special dietary needs."
Grand opening activities at the Plano store continue with a women's health expo led by Corporate Dietitian Dr. Tyra M. Carter on Saturday, April 4. From 2 to 4 p.m., Carter will give small presentations, answer questions and provide free women's health gift bags for guests who stop by. Also, Corporate Chef Chris Wilson will cook up samples of simple, healthy food options and provide recipes to guests in the concierge area.
"Every Market Street guest who walks in our Plano store will be greeted with the same warmth and comfort that tens of thousands of North Texas shoppers have already come to expect from their neighborhood Market Street store," said Store Director Robert Bollinger, who was been with the company more than 25 years. "We're excited about extending that hospitality to the Plano community."
Market Street is a unique shopping experience that combines the everyday groceries guests need with the specialty items, whole-health/gourmet products and pre-prepared foods they want. The first Market Street store opened in Wichita Falls in 1998, and other stores followed in Amarillo and Lubbock.
Fans can find Market Street DFW on Facebook and Twitter.
Among Market Street's other features are:

A full-service meat-seafood counter
An extensive array of fresh produce (including a large organic complement)
A whole-health center stocked with natural, organic and bulk foods, as well as the leading supplement brands
Full-service floral department
An extensive selection of wine and beer from around the world
Dish Kitchen Store
Fresh sushi bar
Peet's Coffee and Tea shop and Keva frozen drink/smoothie bar
A large bakery emphasizing made-from-scratch pastries, desserts and artisan breads
An in-store health care clinic offering treatment for most common minor illnesses, including allergy-related symptoms, colds and flu, strep throat, stomach ailments, minor burns and skin rashes/infections. Additional services include glucose testing, pregnancy testing, school/camp physicals, diabetes screening, blood pressure checks and common vaccinations.
A wide variety of great foods from several in-store restaurants available for dine-in or take-out, with seating to accommodate more than 125 people for in-store dining
Competitive pricing
About United Supermarkets:
Now in its 93rd year of operation, United Supermarkets, LLC, is a Texas-based, family-owned grocery chain with stores in 30 markets across north and west Texas. A self-distributing company with its headquarters and distribution center in Lubbock, United currently operates 50 stores under three distinct formats: United Supermarkets, Market Street and Amigos United.
###