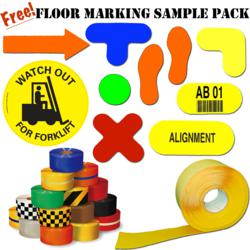 "Superior Mark floor tape will outperform and outlast all other floor striping alternatives," says owner Cliff Lowe.
(PRWEB) January 22, 2013
On January 21st stop-painting.com will have a booth setup at the Pro-Mat expo and be one of the 800 exhibitors in attendance. Owner Cliff Lowe will be at the booth to discuss any products that Insite Solutions carries. Cliff will have complimentary samples of the revolutionary Superior Mark marking tape and corners. The Superior Mark tape stands out because of its recessed adhesive and beveled edges. The recessed adhesive allows for the tape to be that much closer to the floor making it less vulnerable to being damaged. The beveled edges make the pallet actually slide up over the tape which no other tape will allow. The floor marking tape is great for organizing warehouses to improve efficiency and eliminate downtime for floor marking. The tape is easily applied and can be removed without constant scraping and peeling. The marking tape has a smooth glossy finish that resists dirt and is easily cleaned.
Insite Solutions also offers Superior Mark corners which carry the same attributes that the tape does, but they are also puzzle cut to make installing corners easy. Stop-painting.com offers the corners in 7 different colors and most are available in two or four inch. The corners are also available in T's, X's, L's. To install, follow the easy instructions offered at Stop-Painting.com. First, clean the surface area with alcohol and let it completely dry. Secondly, measure a 50 inch square box and mark out the edges where corners are to be placed. Finally, peel and stick the corner markers to the floor and tamp it with a tamper cart to activate the pressure sensitive adhesive. Upon completion the floor can be opened to traffic immediately.
Stop-painting.com also specializes in self-adhesive floor signs. Floor signs are essential for warehouse safety. The floor signs can be ordered in vinyl for light traffic areas, the rubber is more durable than the vinyl, but for permanent heavy traffic areas, the permanent inlaid epoxy is the best option. The epoxy protects from sign damage and gives a highly visible gloss finish. Insite Solutions can custom print any size, shape, or color to fit the specific needs of the customer.
Contact details
To request a complimentary sample of Superior Mark floor tape and Corners, visit the manufacturer's website, http://www.stop-painting.com. Stop-painting.com is the leading expert on industrial floor marking and designs floor marking solutions for traffic control, Lean/5S organization, industrial safety, OSHA compliance, and other custom applications. The parent company, InSite Solutions, holds a patent for a traffic marking tape design. For more information, please contact Cliff Lowe at 1-866-284-1541.