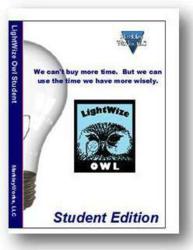 I can't imagine a gift more focused or appropriate than the Owl Student. It's ideal for students graduating from high school and heading off to college or technical school.
Tampa, FL (PRWEB) April 28, 2011
In response to the many ideas and suggestions offered by current users, MarkleyWorks LLC today announced the release of LightWize Owl for Students Version 3.0. The updated version features greater flexibility for the user and enhanced formatting of ready-to-print reports on all modules, including the ones for tracking classes and assignments.
The Owl is a Windows-based personal organization system. It provides an environment in which a complete array of life skills can be honed. Users of the Owl develop the ability to plan, schedule, prioritize, and stay on track with commitments. They learn to formulate an overall life strategy, and they gain the power to reduce stress through knowing that all responsibilities and commitments have been captured and incorporated into that strategy. They also begin to identify important historical information and events and archive them in such a way that maximum future benefit can be derived through minimum retrieval effort.
Users find they have an increased ability to think creatively and develop insightful solutions to information management and day-to-day organizational issues, a skill especially helpful to students. Also helpful to students (and their parents!) is a new focus on how to establish and manage a budget through both short-term and long-term financial tracking. Users also learn to avoid duplication of work and repetitively searching for the same pieces of information. As a result, students are learning to be as streamlined and effective as possible in today's complex world.
"Yes, we did have a number of recommendations for improvement on the original LightWize Owl Student package, and we continue to welcome such recommendations," said Ross Markley, Technical Director of MarkleyWorks. "We live in an ever-evolving world. We will not hesitate to make changes as new ideas emerge, because no one knows better than our clients what will work best for them."
The new release of the Owl Student places a practical and useful gift for graduating high school seniors on the market. While there are many high school graduation gift possibilities, finding a really appropriate one is often a difficult task.
According to Dale Markley, Business Director of MarkleyWorks, that task can be readily simplified by LightWize Owl Student. "How many times have I faced the dilemma of what to buy for a graduating family member or son or daughter of a close friend? I can't imagine a gift more focused or appropriate than the Owl Student. It's ideal for students graduating from high school and heading off to college or technical school. And it's a gift that will keep on giving, because a student can take this tool with him or her to wherever life leads once the academic career is concluded."
For more information about LightWize Owl and LightWize Owl Student Edition, visit http://www.MarkleyWorks.com.
About MarkleyWorks, LLC:
MarkleyWorks is a privately-owned company based in Tampa, Florida. It was established for the purpose of creating "quality of life" software that would help the average person gain control over the personal computer and its use as a tool to manage personal information. While the primary objective of the Owl is to organize data and allow push-button retrieval of important information, the system also saves time, reduces stress, and provides a solid springboard to success in today's complex world.
###