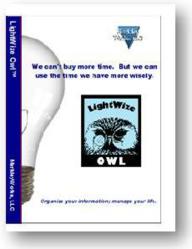 For those who need minor software changes or technical assistance in the application of the system, 'My Own Owl' will provide a more focused level of personalized support.
Tampa, FL (PRWEB) July 07, 2011
In response to client requests, MarkleyWorks LLC today announced a new customization service for users of the LightWize Owl. For either a fixed fee or an hourly consulting fee, the ability to alter the basic design of the Owl will be available to those wishing to have it more specifically attuned to individual uses and needs.
The Owl is a Windows-based personal organization system. It harnesses the power of data base management but is presented in a simple framework of easy-to-use entry screens and pre-designed reports.
Users of the Owl have a unique opportunity to focus on and develop a complete array of critical life skills. They develop the ability to plan, schedule, prioritize, and stay on track with commitments. They learn to formulate an overall life strategy, and they gain the power to reduce stress through knowing that all responsibilities and commitments have been captured and incorporated into that strategy. They also begin to identify important historical information and events and archive them in such a way that maximum future benefit can be derived through minimum retrieval effort.
Users find they have an increased ability to think creatively and develop insightful solutions to information management and day-to-day organizational issues. They also learn to avoid duplication of work and repetitively searching for the same pieces of information. As a result, they find they are much more effective at managing their lives and minimizing the impact of information overload.
The new customization service, called "My Own Owl," will enable the user to request additions, deletions, or changes to existing elements of the system. For example, a small business owner might wish to have some fields added to assist in tracking finances. Or, the owner might want the reports customized so the company name appears automatically on all Owl Reports.
Ross Markley, Technical Director of MarkleyWorks, is a Certified Specialist in Microsoft Office Access, the data base manager on which the Owl was built. According to Markley, "Whatever changes a business or individual might wish to have, the service will be available simply by contacting us, either through the website or by telephone. Each request will be handled on a case by case basis."
More details about how to tap into "My Own Owl" are available at the company's website, http://www.MarkleyWorks.com.
The announcement of this support program represents a new dimension in service for MarkleyWorks. Business Director Dale Markley says, "The standard Owl will satisfy the needs of the vast majority of users. For those who need minor software changes or technical assistance in the application of the system, 'My Own Owl' will provide a more focused level of personalized support."
MarkleyWorks also offers a special Student Edition of the LightWize Owl. For additional information, visit http://www.MarkleyWorks.com.
About MarkleyWorks, LLC:
MarkleyWorks is a privately-owned company based in Tampa, Florida. It was established for the purpose of creating "quality of life" software that would help the average person gain control over the personal computer and its use as a tool to manage personal information. While the primary objective of the Owl is to organize data and allow push-button retrieval of important information, the system also saves time, reduces stress, and provides a solid springboard to success in today's complex world.
###