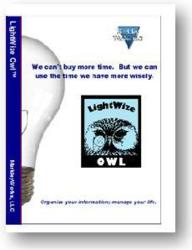 The Owl is a personal organization system that will put you in control of the mountains of information that affect your own personal journey through life.
Tampa, FL (PRWEB) December 15, 2011
MarkleyWorks LLC is a quality-of-life software company based in Tampa, Florida. Its flagship product, the LightWize Owl, is an automated personal organization system designed to help the user save time, eliminate stress, and enjoy life. Many people are discovering that its high value and low price make it the perfect gift for Christmas or any other holiday or occasion.
The Owl operates in a Windows-based environment. It harnesses the power of data base management but is presented in a simple framework of easy-to-use entry screens and pre-designed reports. The Owl features six interactive modules – contacts, events (and to do list), finance, inventory tracking, internet links, and tips (a personally-oriented solutions repository).
Users find they become more efficient, less stressed, more creative in analyzing situations and devising solutions, and better able to focus on important goals and objectives. They also learn how to track their finances and how to plan, schedule, and meet obligations effectively.
One question that the owners of MarkleyWorks get continuously is why anyone would need the Owl if they already have a smart phone or similar multi-tasking electronic tool. "The answer to this question," said Ross Markley, Technical Director, "is very simple. The Owl is not meant to compete with or duplicate those tools. It is a not a fancy way to gather information quickly from cyberspace. The Owl is a personal organization system that will put you in control of the mountains of information that affect your own personal journey through life. Its effectiveness is cumulative … as time passes, our own personal histories build exponentially. Being able to retrieve bits of information or construct complete pictures of any aspect of that history at the touch of a button will become more and more helpful, and more and more time-saving, as time goes on."
As a special incentive to those looking for truly useful gifts this season, MarkleyWorks LLC is providing one additional free copy to anyone who buys the Owl as a gift during the holiday season. The program, called "Gift One, Get One," will be in effect through the end of calendar year 2011.
A Student Edition of the Owl is also available. This version has all the components of the original Owl, plus additional modules for tracking classes and assignments. It is designed to help students focus on academic goals and develop critical life skills, including how to organize for success and how to manage a budget.
More information about the original LightWize Owl, the LightWize Owl Student, and the "Gift One, Get One" initiative is available at http://www.MarkleyWorks.com.
About MarkleyWorks, LLC:
MarkleyWorks is a privately-owned company based in Tampa, Florida. It was established for the purpose of creating "quality of life" software that would help the average person gain control over the personal computer and its use as a tool to manage personal information. While the primary objective of the Owl is to organize data and allow push-button retrieval of important information, the system also saves time, reduces stress, and provides a solid springboard to success in today's complex world.
# # #