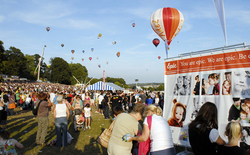 For a small enterprise the Marler Haley range is great for us to be able to have a durable yet portable outdoor display
(PRWEB) May 10, 2010
Photographers Iggy Jimenez, Simon Withyman and the team at Epic Photography are planning their appearance at this year's Bristol Balloon festival taking their Marler Haley outdoor exhibition stands for a full impact event environment.
The Bristol based 'portrait experience' company was taken over by Ignacio (Iggy for short) and his business partner Simon Withyman in the summer of 2008. Since then the business has flourished and continues to provide vibrant personal reflections of their customers combined with truly beautiful photography.
Along with a state-of-the-art studio, the Epic photographers take their skills out to location capturing weddings, school events and family portraits. Epic use their outdoor display stand from Marler Haley to create a high-impact presence when out on location, spreading brand awareness and creating intrigue for the work they do.
Keeping things local, Epic attend a number of events in and around Bristol. This year sees Epic attend The Harbour Side Festival and Nature Festival in the summer as well as the world famous Bristol Balloon Fiesta in August. Wishful thinking and predicted good weather will see a large turn out to these events. "The outdoor environment always attracts a good number of visitors and the fine weather puts them in a great mood for photos", says Simon.
Simon found Marler Haley through the Internet and quickly discovered that Outdoor Displays can be portable and affordable. "For a small enterprise the Marler Haley range is great for us to be able to have a durable yet portable outdoor display. Some of the other outdoor brands we'd looked at were more permanent and well out of our price range."
Epic are also looking forward to taking their displays to indoor events this year stating "The organisers always give us a good space which allows us to take our big impact displays there too," adds Simon.
Andrew Pocock, Sales Director at Marler Haley concludes, "Epic are a pleasure to work with, they know what they want from their outdoor displays and have high impact graphics that really work on a large scale. We're very much looking forward to seeing Iggy and Simon's business grow in leaps and bounds!"
About Marler Haley:
At Marler Haley we pride ourselves in developing portable display systems that are easy to use, flexible and stylish. Celebrating 60 years of excellence, we deliver quality products supported by graphics produced at our in-house state of the art printing facility. Always conscious of your investment, Marler Haley has the expertise to help you create the best solution for your portable display requirements. Not only are we a modern progressive company we are built on history.
During 1946 in a very austere, war torn Britain, Sid Marler and Jim Haley formed a partnership known as Marler Haley Displays. From humble beginnings, Marler Haley has developed and expanded into a world supplier of portable display and exhibition systems.
In 1952 Marler Haley produced the first modular display system. In 1960 an enquiry from Vauxhall Motors revealed a need for vertical surfaces to support graphics and Multiscreen was created. Nearly 50 years on it is still a very popular portable display system.
The company became aware of the universal need for simple systems which could be constructed and dismantled easily. A period of growth and development saw the introduction of new products setting the pace for for Marler Haley's success in the portable display market.
Marler Haley are part of the P3 Group. The world's largest suppliers of display, exhibition and event solutions.

10 companies
Over 500 wonderful people
8 locations
Partners in 60 countries
2008 sales of £50m
Contact
Press Officer – Laura Wiles laura.wiles (at) marlerhaley.co.uk
Booth Drive, Park Farm, Wellingborough, NN8 6NL
01933 671400
About Epic Photography
You are epic.
There is nothing more important than you and your loved ones, so why not capture life's sweetest moments and together enjoy a unique adventure that will stay in your hearts for many years to come. There are so many things that make you who you are, so come to us and reveal them!
It's all about you! You are fun, exciting and beautiful! You are Epic
We are epic.
In August 2008 Epic was taken over by ourselves, Ignacio and Simon. Since then we have worked hard to provide a higher-level of photography and customer service, making your visit really enjoyable.
We are a friendly and professional photography company, offering an exciting portrait experience, both on location and in our state-of-the-art studio.
Here at Epic you will always be warmly welcomed. Our creative photographers will produce vibrant images of you and your loved ones, bursting with originality and the wow-factor.
We know you will love the results! We are Epic!
info (at) epicphotography (dot) co.uk
###