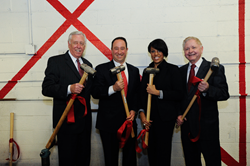 Baltimore, MD (PRWEB) April 24, 2015
In addition to expanding the factory floor, Marlin has begun preparations for new equipment to be added with an overhaul of the power supply lines going to the factory floor, increasing the power supply sevenfold. The addition of new manufacturing equipment and production capacity also means more jobs to run new automation and robotics. In addition, Marlin Steel is announcing plans to quadruple their quality inspection department.
When asked about the reason for the expansion, Marlin Steel owner Drew Greenblatt cited a strong sales growth trend in 2014 and a confidence in the "American Manufacturing Renaissance" as key factors in the decision to expand.
The Baltimore area can look forward to more employment opportunities for high-paying, high-skilled manufacturing jobs that will contribute to the American economy.
Marlin Steel had a "tear down this wall" event with the Baltimore Mayor Rawling Blake and Congressman Steny Hoyer.
To learn more about Marlin Steel, please use the contact information below.
Contact Ms. Molly Flax
Marlin Steel Wire Products
2640 Merchant Drive
Baltimore, MD, USA 21230-3307
Website: http://www.marlinwire.com/
Phone #: (410) 644-7456
Sales Engineers: (443) 552-5400