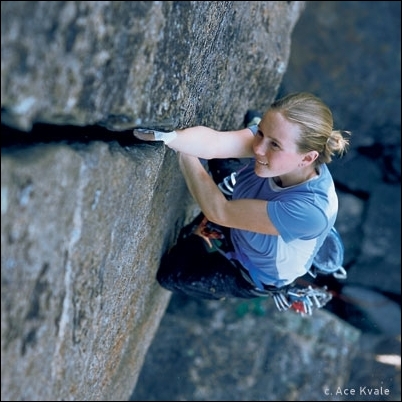 We couldn't be more thrilled to have Beth and Tommy at this year's Triple Crown
Chattanooga, TN (PRWEB) December 1, 2006
Rock/Creek Outfitters and Marmot announce this week that Beth Rodden and Tommy Caldwell, two of the world's most accomplished rock climbers, will compete at the final event of this year's Triple Crown Bouldering Series. Rodden and Caldwell, a husband-wife duo who are part of Marmot's team of sponsored athletes, have made a name for themselves in the climbing community as a couple, but their individual achievements are equally as impressive.
Rodden established the most difficult climb by an American woman on "The Optimist," a 5.14b in Oregon's Smith Rock State Park, and is consistently forging other first female ascents. Caldwell is famous for such feats as his free ascent up the astoundingly difficult, 5.15d Dihedral Wall of El Capitan, considered to be the hardest climb in North America. They are the only couple in the world to have free climbed El Capitan as a team.
"We couldn't be more thrilled to have Beth and Tommy at this year's Triple Crown," remarked president and co-owner of Rock/Creek Outfitters, Dawson Wheeler. Rock/Creek Outfitters has been a major sponsor of the Triple Crown since its inception. This year's other primary event sponsors are Marmot and Chaco.
Now in its fourth year, The Triple Crown Bouldering Series has grown to be the largest outdoor bouldering series in the world. The three part event kicks off in October at Hound Ears in Boone, NC, then moves on to Horse Pens-40 in Steele, AL, and concludes December 2 at The Stone Fort in Chattanooga, TN. Over 400 climbers competed in each of the first two events, and hundreds of spectators were present. Approximately 425 competitors from more than 30 states are expected at this year's finale at The Stone Fort.
"The main goal of the Triple Crown is to raise money for climbers' access," said Chad Wykle, co-organizer of the event. "The series supports the Southeastern Climbers' Coalition and the Carolina Climbers' Coalition, which have both played a key roll in the acquisition of land for the climbing community in a region that is plagued with access issues." In its lifetime, the event has raised over $40,000 towards climbers' access.
To further this effort, Rock/Creek Outfitters has partnered with Chaco to offer custom sandals during this year's bouldering series. For every pair of custom Chacos sold, Rock/Creek and Chaco will donate $20 towards to the Southeastern Climbers' Coalition's effort to gain access to a bouldering area in Atlanta, GA.
Rodden and Caldwell will present their latest movie, The First Couple of Rock, awarded "Best Climbing Film" at the 2005 Vancouver Mountain Film Festival, Friday, December 1 at Rock/Creek Outfitters in downtown Chattanooga, TN. For more information, visit http://www.RockCreek.com.
For details on the Triple Crown Bouldering Series, visit http://www.TripleCrownBouldering.org.
About Rock/Creek Outfitters:
Rock/Creek Outfitters is a specialty outdoor retailer with over two decades of experience in the Southeast. Along with its online shops, RockCreek.com and ClimbingGear.com, Rock/Creek Outfitters provides quality outdoor clothing and gear for a host of activities including kayaking, rock climbing, camping, hiking, trail running, and adventure racing. Rock/Creek is committed to making a positive impact on the environment. For this reason, it uses outdoor retail as a platform to encourage outdoor recreation and environmental stewardship and to improve access to the backcountry.
About Marmot:
Marmot has built performance outdoor products for over 30 years. They design and produce outdoor clothing and equipment to be simpler, easier-to-use, more comfortable, more durable, lighter weight, and, at the same time, of the highest quality and a better value.
###