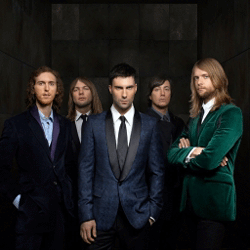 Although many Maroon 5 performances are officially sold out, Ticket Tweet is proud to offer fans access to tickets to all shows with a worry-free guarantee to protect their purchase
(PRWEB) January 20, 2013
Maroon 5 is finally kicking off their long awaited North American tour during spring 2013. Fans have had to wait to see the band live due to head singer Adam Levine's commitment to filming NBC's The Voice. Maroon 5 has sold more than 17 million albums worldwide, and produced several number one hits. Most recently the band performed their largest concert yet in front of 30,000 fans during an Overexposed Tour event in South America.
The 2013 Maroon 5 Tour will be in support of their fourth album, Overexposed, which launched during summer 2012. Rolling Stone magazine referred to Overexposed as "their best yet." The album features several chart-topping singles including Payphone, One More Night, and Daylight. One More Night was #1 on the Billboard Hot 100 for nine consecutive weeks, making it 2012's longest-leading #1 Hot 100 hit. After the band's North American tour, they will take a short break, then embark on an 8 stop European tour during the summer of 2013.
The 2013 Maroon 5 Overexposed Tour will also feature special guests Neon Trees and Owl City, who will open for Maroon 5 at all North American shows. The first stop on the Maroon 5 Tour will be the Schottenstein Center in Columbus, OH, on February 13, 2013. The tour wraps up at the Allstate Arena in Rosemont, IL, on April 6, 2013. Other stops on the tour include sold out shows in Los Angeles, Houston, Dallas, Atlanta, Las Vegas, Seattle, Kansas City, Orlando, and Philadelphia. Ticket Tweet has tickets available now for all Maroon 5 shows, including tickets for their sold out show at Madison Square Garden in New York City on February 16, 2013.
Adam Levine and Maroon 5 are one of today's hottest acts, and tickets have been in very high demand, resulting in 26 sold out shows to date. Fans should purchase Maroon 5 Tickets now to guarantee their seats to see the band during their 31 stop North American tour.
As a leader in the secondary ticket market, Ticket Tweet has tickets available now for all shows on the Maroon 5 Tour, including hard to find Fan Packages and VIP Packages. Ticket Tweet aggregates results from every available ticket source inventory in the world to bring you the best possible seat choices, and a convenient single point of contact. Ticket Tweet offers customers a worry- free guarantee, which includes a complete refund if the event is cancelled. Ticket Tweet gives you the ability to choose the Maroon 5 seats you want at the cost you want. So don't wait. Lock in your Maroon 5 Tickets today at http://www.TicketTweet.com.