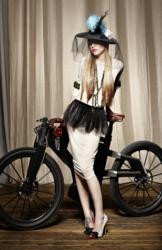 Websites can be successful through having a clear focus on luxury items and high-end products and by not selling expensive items alongside relatively inexpensive ones
(PRWEB UK) 10 December 2012
Maintaining the luxury in luxury goods sold online
E-commerce has become a major source of revenue for companies all around the world. In fact, IMRG predicts that B2C e-commerce sales will surpass $1.25 trillion by 2013.
Showcasing your goods and services to millions of potential buyers globally, who prefer to buy online for various reasons, makes solid business sense. Yet, it has taken the luxury goods market longer than most to capitalise on the obvious benefits of doing so, as well as take advantage of the broad reach offered by the Internet. In fact, up until just three years ago, only a third of luxury brands used the Internet as a sales channel.
Making luxury commerce online possible:
All this is changing forever, thanks to the unique way in which Marque-it enables the world's most luxurious brands to offer their goods online.
According to Andy Hood, founder of luxury E-commerce site AMARA, luxury websites can be successful through having a clear focus on luxury items and high-end products and by not selling expensive items alongside relatively inexpensive ones. This is the exact principle we adhere to. We have enabled a means for top brands to showcase a luxury product online without decreasing its value or making it any less luxurious.
Recreating the high-end experience:
Our extensive research recognised the need to translate the exclusive, authentic and indulgent in-store experience that high-end consumers are accustomed to, into an online platform. Marque-it has therefore developed a unique social commerce platform that only represents the best of the best.
Firstly, only luxury brands and bespoke brands - from cars to submarines and golden iPhones - can showcase their products on our e-commerce site. Secondly, high net worth individuals are able to communicate direct with sellers of luxury products.
Three factors for success:
E-commerce author Marcia Kaplan cites three main components as requisites for selling luxury goods online, all of which we deliver above and beyond.
Detailed information: The higher the price tag, the more information the customer expects. Marque-it allows sellers to upload as much information as they want, in a variety of formats such as text, PDFs, videos, fan pages and more.
Personal communication: An ordinary FAQs page isn't sufficient. It's essential to replicate the services of an upscale retail store through online chat options and a personal shopper. Using Marque-it, buyers can communicate directly with companies by phone or email or even online chat.
Recreate the boutique atmosphere: A luxury boutique relies heavily on in-store decor and ambience to create the right environment. Marque-it has taken full advantage of current advances in technology to create a fully customised interactive social commerce website. We have incorporated features allowing companies to create customisable storefronts to increase brand awareness on a global scale. Our unique social media capabilities also allow potential buyers to discuss companies and products using fan pages, recommend products to friends and create wish lists.
To find out more about how Marque-it has transformed luxury commerce online forever through a unique media-rich solution, please contact us on +44 (0) 117 908 9081.