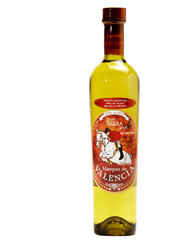 "Great flavors through the entire tasting of Marquez de Valencia, a wonderful Tequila." Tequila.net "Excellent balance & style" Beverage Tasting Institute "This reposado is uniquely ideal for tequila lovers and those new to tequila" TheTequilaGuy.com
Long Beach, CA (PRWEB) February 16, 2011
Stephanie Valencia has grasped the reins handed down from her father and Marquez de Valencia pioneer, Salvador Valencia, who established the tequila company in 2005. Marquez de Valencia is one of the longest resting reposados (rested tequilas), acquiring the full flavor of the barrel for almost up to a twelve months. This produces a subtle oak and mahogany finish, complemented by hints of sandalwood, sweet vanilla, and "lovely aromas of pineapple upside down cake, coconut cream, mint water, and pink peppercorns," as declared by Tastings.com, the website of the Beverage Testing Institute. This site also presented Marquez de Valencia with the Gold Medal of the International Review of Spirits Award, weighing in at a solid 94 out of 100. Overall, the Beverage Testing Institute dubs Marquez de Valencia, "Exceptional."
Perhaps the highest praise of all is from PocoTequila.com, which claims, "It is unusual these days to see a company go this direction with only one variety, but I think it adds to the validity of the individual spirit. It appears the focus was to get this tequila right and not a possible after thought to complete a tequila family, as we see so often."
Although Stephanie Valencia is in the process of rebranding her product, the caliber of her tequila remains the key element in manufacturing. "Our tequila is very special because it's a limited production; any other way would hinder the quality of the tequila," Valencia explains. "We learned to appreciate fine tequila, and when your hearts beats with heritage and veins run with tequila, you pretty much have no choice but to know your stuff."
Marquez de Valencia's new website, http://www.valenciatequila.com, includes a tequila finder and several tequila cocktail recipes. Their most popular mixed drink, cleverly christened as "Peppermint TEAquila," consists of both peppermint and green tea leaves double steeped, agave nectar, Marquez de Valencia tequila, and chopped dark chocolate; shaken or over ice. This concoction was relished by A-listers, such as George Lopez and Dennis Quaid, backstage at the 2011 GBK Productions Golden Globes Gift Lounge.
About Marquez De Valencia:
Established in 2005, Marquez de Valencia tequila is handmade out of 100% blue agave, making it completely natural with no coloring or preservatives. Rested at close to a year, Marquez de Valencia acquires the full flavor of the barrel, producing its subtle oak and mahogany finishes complemented by hints of sandalwood and sweet vanilla.
###