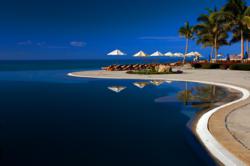 The "Mini-Indulgences" weekend will include a sunset beach party; remote #TNI with the ZipSetGo.com Girls; after party at Luxury Avenue; Tweetup amenities from Hartmann Luggage, and more!
Cabo San Lucas, Baja California Sur, Mexico (PRWEB) May 23, 2011
Marquis Los Cabos, along with co-sponsors Hartmann Luggage (@HartmannLuggage), Virgin America (@VirginAmerica) and Luxury Avenue Los Cabos (@ShopLuxuryAve), will host ZipSetGo.com's #TNI (Travelers Night In) tweetup, June 8-11th. The "Mini-Indulgences" themed weekend will include a sunset beach party at the resort; remote #TNI with the ZipSetGo.com Girls; after party at Luxury Avenue, Los Cabos' most upscale shopping destination; Tweetup amenities from Hartmann, an American maker of fine luggage and leather goods for the travel elite, and more. In celebration of their new non-stop San Francisco flight to the destination, Virgin America will offer tweetup attendees 5% off flights between San Francisco and Los Cabos.
For a chance to win a $5,000 prize package to attend the tweetup, interested attendees should post why they want to head to Marquis Los Cabos for the tweetup on the resort's Facebook page – http://www.facebook.com/marquisloscabos. A three-night stay at the resort for the tweetup, a roundtrip ticket from Virgin America, $1,300 worth of Hartmann's new Hartmann Lite luggage collection, and a sampling of Marquis' new $1K Tequila Pop are included in the sweepstakes prize.
Regularly noted as the largest organized travel chat of its kind and recently a top 10 twitter trending topic in the US, ZipSetGo.com's Travelers' Night In #TNI is a weekly tweetchat that takes place Thursdays from 3:30pm – 5:00pm EST during which a different travel theme is entertained, creating a dynamic interactive discussion within the travel twitter community around the globe.
"With several new Mini-indulgences like the Tequila Pop, a mini Spa Indulgences Menu and "Taste of Luxe" Tapas Menu available, Marquis Los Cabos allows guests to personalize their hotel stay as part of the resort's new approach to service, 'Customized Luxury,'" said General Manager Ella Messerli.
For the month of June only, Marquis Los Cabos will be offering a special twitter rate of $100 per night. Tax and gratuity are additional. For more information on the Tweetup or reservations, call 305-476-5424 or email sterritt(at)kwepr(dot)com. For upcoming topics and more information on Travelers' Night In #TNI, go to http://www.ZipSetGo.com/travelers-night-events.
About Marquis Los Cabos:
The 237 all-suite beachfront Marquis Los Cabos Resort (@MarquisLosCabos) is located on the southernmost tip of the Baja California peninsula, where the Sea of Cortez meets the Pacific Ocean, and is minutes from the authentic Old World village of San Jose del Cabo as well as the lively town of Cabo San Lucas. The resort features a 15,000 square foot holistic spa and fitness center, an exclusive gourmet restaurant where a Michelin-pedigreed chef prepares a nightly prix fixe menu and an extensive collection of Latin American sculpture and painting on display in public areas and guest suites. Since its 2003 opening, Marquis Los Cabos has earned the travel industry's most coveted awards including "World's Best" (Travel + Leisure); "Gold List" (Condé Nast Traveler); "Best Value" (Condé Nast Traveler); the AAA Four Diamond, and the Five Star Diamond for its Canto del Mar restaurant. Marquis Los Cabos is a member of the prestigious Leading Hotels of the World and the only member of Leading Spas of the World in Los Cabos.
About Hartmann Luggage:
Since 1877, Hartmann has developed and manufactured luggage and leather goods of superlative quality. To Meet the needs of the frequent traveler, Hartmann's iconic luggage collections reflect a heritage of American craftsmanship and discreet luxury. The company is headquartered in Lebanon, Tennessee, and sold internationally by fine department stores and specialty luggage shops.
About Virgin America:
Headquartered in California, Virgin America offers guests attractive fares and a host of innovative features aimed at reinventing air travel. The airline's new aircraft offer interactive in-flight entertainment systems and power outlets near every seat for electronic gear. Virgin America offers Gogo™ in-flight internet service on every flight and hosts the largest in-flight entertainment library in the North American skies via the touch-screen Red™ platform. In just over three years flying, the carrier was named "Best Domestic Airline" in the Condé Nast Traveler 2008, 2009 and 2010 Readers' Choice Awards and "Best Domestic Airline" in Travel + Leisure's 2008, 2009 and 2010 World's Best Awards. Virgin America is a U.S. owned and operated airline that has created 2000 jobs and welcomed more than 11 million guests since its August 2007 launch. On April 14, 2011, the airline opened its new home as an anchor tenant at SFO's new beautiful and sustainable Terminal 2.
About Luxury Avenue Los Cabos:
Luxury Avenue Los Cabos, boasting a stunning waterfront setting at the center of the Cabo San Lucas marina, is home to designer boutiques including CH Carolina Herrera, Salvatore Ferragamo, Cartier, Fendi and Chopard. A pioneering concept in travel retail, Luxury Avenue Los Cabos along with Luxury Avenue Cancun bring to Mexico a shopping experience previously only available on the streets of Milan, Paris, New York and Beverly Hills. For more information on Luxury Avenue, please visit http://www.luxuryavenue.com, follow us on Twitter @ShopLuxuryAve or become a fan of our Facebook page.
About ZipSetGo.com
ZipSetGo.com is a free, content-rich, community-based travel website offering untold information about the hottest and most luxurious travel destinations. ZipSetGo.com aggregates extensive amounts of credible content, organized in a usable format that employs social media to create a community of informed travel addicts and travel professionals. To ignite interest and create an emotional connection, the site provides visitors with the ability to see the world through the eyes of the GoGirls. ZipSetGo.com is a wholly owned subsidiary of Excellence In Motivation, Inc.
###