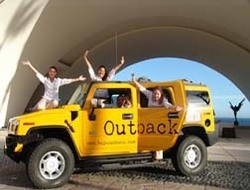 Number 1 Golf Course in Mexico
Cabo San Lucas, Baja California Sur, Mexico (PRWEB) December 10, 2008
From eco-tours and surfing lessons to relaxing spa treatments and artistic experiences, girlfriend getaways at Marquis Los Cabos provide value-packed vacation options in Mexico's Baja California Sur. Through December 15th, girlfriends booking one of Marquis Los Cabos' Girlfriend Getaways in 2009 receive 20% off the total bill.
Marquis Los Cabos' Girlfriend Getaways promise unparalleled adventures, including three days of private lessons with a Mexican Painter (Aspiring Artist Package ); poker night with Surf & Turf dinner and open bar, three surf lessons with instructor and two rounds of golf at Cabo del Sol, noted as the "Number 1 Golf Course in Mexico" (Women's Surf & Turf ), and a four hour guided eco-tour in luxury Hummers and a $100 spa credit per room (It Girl Package ).
Beginning this January, Marquis Los Cabos can also arrange chauffeured transportation to some of Cabo's hotspots like the new Luxury Avenue boutique mall opening in December that offers 29 prestigious individual boutiques, including Cartier, Hêrmes, Fendi, Chopard, Gucci, and Salvatore Ferragamo, for girlfriends to indulge their biggest vice, shopping.
Available from June 1 to December 15, 2009, rates in a Junior Suite for the five day/four night Girlfriend Getaways start at $1,540 for the It Girl Getaway, $1,760 for the Aspiring Artist Package and $2,080 for the Surf & Turf. Luxurious accommodations in a Junior Suite or Private Pool Casita with oceanfront view, roundtrip VIP airport transportation, signature welcome drink upon arrival, unlimited access to the fitness center and Jacuzzi, and all taxes and service charge are included.
Visit http://www.marquisloscabos.com or call 1-877-238-9399 for reservations.
Surf & Turf:
Mixing relaxation with adventure, Marquis Los Cabos offers the Surf & Turf Getaway, which combines some of Mexico's favorite resort pastimes. The package includes two rounds of golf at Cabo del Sol golf course, three private surfing lessons in the Sea of Cortes with an experienced instructor and one poker night with dinner and open bar. The party begins with in-room delivery of Mexican wine and guacamole. Daily breakfast buffet in the resort's Vista Ballenas restaurant and a special gift are also included. The 5-day/4-night Surf & Turf Getaway starts at $2,080 per person, in a Junior Suite, including taxes and service charges.
It Girl Package:
Taking in the rugged Baja desert, the It Girl package highlights the adventure of exploration as a four-hour guided caravan tour, complete with an eco-guide, highlights Baja California's culture and history. The complete It Girl package includes a four-hour Wild and Fun Hummer Tour, a US $100 Marquis Spa credit per suite, daily Marquis Breakfast of steaming coffee, fresh baked pastries and fruit delivered in-suite, a chilled bottle of imported champagne, and an It Girl gift. The 5-day/4-night It Girl package starts at US $1,540 per person, in a Junior Suite, including tax and service charges.
Aspiring Artist Package:
Three days of private lessons with a Mexican painter help guests discover their inner artist and develop their talent at Marquis Los Cabos. Guests receive the Winsor & Newton Victoria Box, a superb quality wooden artist kit manufactured in beautiful walnut to use during their stay and to take home after their vacation. The Victoria Box includes Artists' Water Colors, Series 7 Kolinsky Sable Brushes, a Porcelain Palette, a 4" Brush Vase, Willow Charcoal, Pencils and more. The package also features a dinner and a tour of the San Jose Art District, a dynamic and thriving artist community and home to art galleries, studios, and charming shops. The 5 day/ 4 night Aspiring Artist Package starts at $1980 per person and includes buffet breakfast at the resort's restaurant Vista Ballenas.
About Marquis Los Cabos
The 237-suite beachfront Marquis Los Cabos Resort is located on the southernmost tip of the Baja California peninsula, where the Sea of Cortez meets the Pacific Ocean, and is close to the village of San Jose del Cabo as well as Robert Trent Jones' Cabo Real and Jack Nicklaus' Cabo del Sol golf courses.
The resort features a 15,000 square foot holistic spa and fitness center, a stellar gourmet restaurant where a Michelin-pedigreed chef prepares a nightly prix fixe menu, and an extensive collection of Latin American sculpture and painting on display in public areas and in guest rooms. Suites feature Bulgari bath amenities, Frette linens, goose down comforters, wireless internet, and a hydro-massage bathtub. Guests enjoy complimentary breakfast discreetly delivered to an en-suite private cubby.
Since its 2003 opening, Marquis Los Cabos has earned the travel industry's most coveted awards including "World's Best" (Travel + Leisure); "Gold List Award" (Conde Nast Traveler); "Best Value" (Conde Nast Traveler); the AAA Four Diamond Award, and the Five Star Diamond Award for its Canto del Mar restaurant.
It is a member of the prestigious Leading Hotels of the World and the only member of Leading Spas of the World in Los Cabos.
###