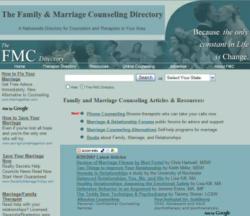 New Orleans, LA (PRWEB) June 03, 2008
Search engines in particular are great places for family & marriage counselors to be listed due to the heavy volume of traffic available from people looking for help with their relationships.
According to Quantcast.com, user demographics for Google.com show that a majority of users are in the 18-34 yr. old age group, with the second largest age group being the 35-49 yr. olds. Both age groups are good candidates for having couples seeking help with their marriages. Also important to note, is that the top two income demographics are $60-100k and $100k+, so the added benefit for this demographic is the ability to afford private marriage counseling or therapy.
Advertising on search engines can be difficult for individuals without experience; Google has a program called "Adwords" that is very popular and effective, but for the novice search-marketer much can be lost by not correctly targeting your audience or not tracking which clicks turn into referrals. For this reason, many people use internet marketing firms like Reciprocal Consulting (ReciprocalConsulting.com) and others to manage their search marketing campaigns.
An easier way for marriage counselors to have a search engine presence is to get listed in popular web directories that have prominent search engine rankings. "The Family & Marriage Counseling Directory" is a good example -- one of the most popular to date.
Another way to find good places to advertise is to "think like a searcher." What would someone seeking help type into Google? Searches like, "marriage counselors," "family counseling," "marriage counseling," and combinations of those plus local city and state names are very popular and usually bring up some good resources.
Chris Hartwell, MSW, is the founder of The Family & Marriage Counseling (FMC) Directory; and he has substantial experience in search engine marketing for The FMC Directory and for individual therapists he has managed search marketing campaigns for. Chris says, "If you compare it to traditional means of advertising, our experience is that the return on investment is about 10 times better for search marketing and internet advertising than it is for yellow page advertising. That has been my experience for family and marriage counselors. I'm not just trying to sell advertising on my site though; there are a few competing directories that are worthwhile to advertise on as well. When you consider the cost of being listed (most are under $10 / month), the return of investment is significant even if you only gain one repeat client per year. The most important thing is to track referrals so you know which ads are working and which ones aren't. Keep a spreadsheet to log referrals, and always ask how the referral found out about you."
Chris goes on to say, "if you have a website, more sophisticated tracking can be used, and you can potentially become a lot more efficient in your advertising. Nearly all website hosting companies provide some basic stats that help you see where your site's traffic comes from, and Google Analytics is another tool I like to use that is completely free. With Google Analytics, tracking can be setup on a marriage counselor's website to show where their visitors come from (referring sites) and which ones filled out the 'Contact Form.' Never before has advertising effectiveness been so simple to track."
For more information on Chris Hartwell or The Family & Marriage Counseling Directory, please visit family-marriage-counseling.com, or Chris's blog: NewOrleansInternetMarketing.com.
###