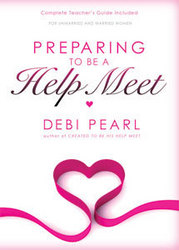 Throughout the book, real life examples are given and real questions from young women that are serious about marriage preparation are answered.
Centerville, TN (PRWEB) June 30, 2011
In this current day of failed marriages, many can be attributed to a lack of proper marriage preparation. A good marriage starts long before the wedding - with marriage instruction. Debi Pearl recognized this need and published a new book for women detailing the necessary information to be prepared for a marriage that can and should be glorious.
Men and women equally desire to love and be loved unconditionally by their soul mate. Many spend so much time dreaming about what their perfect marriage will be like that they don't take the time to properly prepare for it ahead of time. Since statistics show that from forty to fifty percent of marriages end in divorce, men and women alike would be wise to prepare as much as possible beforehand so that their marriage succeeds.
Preparing To Be A Help Meet by Debi Pearl presents the essential information for women to be prepared for a successful marriage. The book is written from the perspective of the expectations within a marriage and the woman's responsibility in being prepared for the reality of achieving and surpassing those expectations.
Young men were also interviewed for the book, adding a much-needed male perspective that is often lacking in books for women on the subject of marriage. Their comments are interspersed throughout the book and then given a whole chapter.
Debi categorizes men into three personality types. These three types - Prophet/Visionary, Priest/Steady and King/Command - are described in great detail in the book. She also describes the three personality types of women: Dreamers, Servants, and Go-To-Gals. Debi then lists the combinations that work best in a marriage.
Throughout the book, real life examples are given and real questions from young women that are serious about marriage preparation are answered. Six sweet love stories are included in Preparing To Be A Help Meet, written by wives sharing their experiences about how God taught them to be the help meets they are today. Three of the stories are from wives that have been married over 40 years. Three stories are by new brides who, before marriage, properly prepared to be the help meet God intended. All the love stories are beautiful, and will show how wonderful it is to walk together in God's light.
The opposite is also presented. A few sobering stories are contained in the book to offer as a warning for young ladies to steer clear of specific attitudes and actions that will ruin a marriage.
For those preparing for marriage or who know of others who are, this book, already an Amazon Best Seller, is highly recommended to give great help toward building the foundation for a fantastic marriage that lasts.
ABOUT THE AUTHOR
Debi and her husband, Michael Pearl, are international best-selling authors. Their books have sold over 2 million copies and have been translated into over 30 languages. They author a free bi-monthly magazine called No Greater Joy which explores child training, marriage, Bible teaching, and natural remedies. You are invited to visit them at http://www.nogreaterjoy.org and http://www.debipearl.com.
###