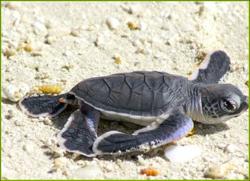 We feel it's important to demonstrate to our guests the way in which our individual actions can make a difference in the lives of these endangered animals
Cancun, Mexico (PRWEB) September 29, 2011
For more than one-hundred-thousand years, sea turtles have made their annual migration to the white sands of Cancun for nesting season, which typically runs May through September. In an effort to protect and preserve this endangered species, the CasaMagna Marriott Cancun Resort has developed a sea turtle protection and release program. This program saves an average of 3,000 endangered baby turtles each year.
The program is particularly popular among Cancun resort guests, who are invited to join Marriott associates in releasing the baby turtles into the ocean once they have hatched. This makes for one of the most truly unique Cancun vacations.
"We feel it's important to demonstrate to our guests the way in which our individual actions can make a difference in the lives of these endangered animals," said Christopher Calabrese, Vice President and General Manager of CasaMagna Marriott Cancun Hotel. "Participating in a turtle release – watching over and protecting tiny turtle hatchlings as they make their way to the ocean for the first time – is one of the most important and profoundly emotional experiences we offer our guests."
Working in conjunction with biologists from the Department of Natural Resource Ecology in Quintana Roo, Marriott associates undergo an annual specialized "turtle training," which teaches employees how to efficiently relocate turtle nests to a designated safe area. On a nightly basis, associates vigilantly scour the resorts' beach for turtles that have emerged to nest. When a turtle is found, associates secure the area to prevent any disturbance that could potentially interfere with the natural process of nesting, and protect the turtle as she lays her eggs.
After the female turtle has completed the nesting process, hotel associates carefully relocate each of her eggs to a nearby turtle nursery located at the CasaMagna Marriott Cancun hotel, which will offer the eggs protection and security as they develop over the following 90 days. During this three-month incubation period, hotel associates diligently track the eggs' progress and ensure their safety. When the eggs finally hatch, hotel guests are invited to join the associates as they release the tiny turtles into the sea.
"We're highly committed to the protection of these prehistoric animals and the conservation of their environment," continued Calabrese. "Sea turtles are our most loyal tourists – they pay no mind to the economy, the state of tourism, or last minute travel deals. They're simply led by instinct to our pristine beaches, year after year, to close their circle of life."
About the CasaMagna Marriott Cancun Resort
Located in the heart of the hotel zone, the AAA Four Diamond CasaMagna Marriott Cancun resort is the perfect choice for weekend getaways, family vacations and group events. Spacious rooms with private balconies offer captivating views of the turquoise waters of the Caribbean or Nichupté Lagoon. A short bus ride to Cancun's famed nightlife, shopping district and Convention Center ensures that there is something to do for everyone. Interconnected with JW Marriott, the CasaMagna Marriott hotel's flexible indoor and outdoor meeting spaces, lounges and restaurants will accommodate any event, theme or vacation guests might be planning. For more information about this hotel, or to book a reservation, please visit http://www.casamagnacancun.com.
###