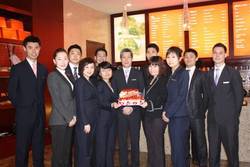 Beijing, China (PRWEB) June 4, 2010
Beijing Marriott Hotel Northeast associates and clients joined in celebrating the hotel's 1st Birthday on March 31, 2010. A definite sense of achievement was felt by all, especially the associates, many of whom are from the original opening team at this Beijing airport hotel.
General Manager Arics Lam is proud of his team's effort and hard work "our awards for 2009 Voyage High End Hotels Evaluates and 2010 Travel & Leisure Top 50 Business Hotels would not have been possible without our guests, associates, owners and management company and we need to make sure we recognize them for that". A book of recognition was especially made and distributed, commemorating the names, faces and events that built the foundations of the hotel over the last year.
Associates also delighted clients by delivering out-sized and out-weighed birthday cakes to the hotel's top corporate accounts. Each cake was specially made in the shape of the number 1.
The 28-story, 5 star hotel in Beijing comprises of 309 guestrooms including Deluxe Rooms, Premium Rooms, Executive Suites, Capital Suite and Presidential Suite. Recreational amenities include a spacious fitness center equipped with high-tech work-out equipment, an indoor swimming pool and Marriott's award-winning "Quan" spa center. With five Beijing restaurants to choose from, 1,600 square meters of meeting space including 840 square meter ballroom and six function rooms Beijing Marriott Hotel Northeast has the perfect venue and catering for every occasion.
###