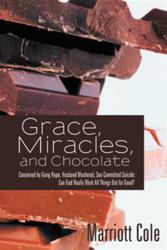 I want my readers to feel like they are better prepared to face tomorrow, no matter what comes their way
MCMINNVILLE, Ore. (PRWEB) April 08, 2013
In her new book "Grace, Miracles, and Chocolate: Conceived by Gang Rape, Husband Murdered, Son Committed Suicide: Can God Really Work All Things Out for Good?" (published by Inspiring Voices), Marriott Cole revisits her memories – the good and the bad – offering readers a glimpse into the state of mind that carried her through life's ordeals.
Cole takes readers through the major beats of her life, sharing poignant anecdotes accompanied by Scripture. She reaches back to dig up old memories, such as the first conversation she had with her birth mother and how Cole was able to overcome the horrifying details of her conception – which she also discusses.
Cole credits prayer, laughter and faith as the source of the power that allowed her to move past the difficulties in her life, including the death of her husband and what she describes as the "… terrifying thought of raising seven children on her own."
An excerpt from "Grace, Miracles, and Chocolate":
"Marriott," John said as we paused in our driveway, "The Lord told me that I have less than two years to live."
"What makes you think that?" I questioned, my heart sinking.
"When I was praying this morning by the bed, I heard the still small voice of the Lord say to me, 'John, you have less than two years to live, and you need to get ready.'"
Cole hopes her inspirational story gives readers strength to face their own issues and problems. She says, "I want my readers to feel like they are better prepared to face tomorrow, no matter what comes their way."
About the Author
Marriott Cole is a remedial reading specialist living in McMinnville, Ore., with her husband and two cats. She enjoys spending time with her six children and 10 grandchildren, attending Bible study and playing bridge.
Inspiring Voices, a service of Guideposts, is dedicated to helping authors share their words of hope, faith and inspiration with the world. A strategic publishing partnership with indie book publishing leader, Author Solutions, Inc.; Inspiring Voices allows authors to publish inspirational and spiritual books without respect to their specific doctrine, denomination or political point-of-view. Authors published through Inspiring Voices benefit from access to exclusive Guideposts marketing services, with select titles appearing in a special collection at Guideposts.org. For more information on publishing with Inspiring Voices, log on to inspiringvoices.com or call 866-697-5313.
###