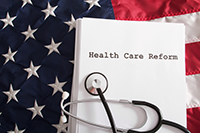 Many commentators view the Massachusetts law as a working model for the PPACA, and much has been made about the two plans and their similarities and differences.
San Diego, CA (PRWEB) September 29, 2012
As September draws to a close and the 2012 presidential election looms just over a month away, Marrs Maddocks, a San Diego insurance agency, has been reviewing the 2006 Massachusetts Health Care Insurance Reform Law (or "Romneycare") with the aim of speculating about what changes Mitt Romney would make to the Patient Protection and Affordable Care Act (PPACA or "Obamacare") or institute with his own version of healthcare reform if he was elected president.
"Many commentators view the Massachusetts law as a working model for the PPACA, and much has been made about the two plans and their similarities and differences," said Neal Stehly, Executive Vice President of the Benefits Division. "This has caused many to speculate about the impact a potential Romney administration would have on healthcare reform, and we're curious as well."
Romney's and Obama's plans share many similarities on a macro level, but differ greatly once you dive into the details. Marrs Maddocks highlighted the following as potentially occurring under a Romney administration:

Expect the basic structure to stay the same. Even in the event of a full-blown repeal of the PPACA, don't expect the general framework to change much with a Romney alternative. While implementation would certainly be delayed, Romney has gone on the record several times as saying there are many aspects of the PPACA he likes and would include in his own proposal.
People without access to employer insurance may get tax deductions. Romney has advocated for the individual's right to the same tax advantages as an employer when purchasing health insurance. His view is that it's not fair that people are penalized with a higher rate on insurance because their employer doesn't offer it. A Romney administration would likely take a long, hard look at this aspect of the PPACA and set its sights on giving consumers more choice in the marketplace.
Mandates may be tweaked. Under Romney's Massachusetts legislation, no mandated benefits for healthcare coverage above catastrophic care were proposed. Under the PPACA, Americans are required to purchase a certain set of benefits to meet minimum federal requirements, so someone who has only catastrophic insurance would need a more comprehensive plan. Under a potential Romney administration, this mandate could be lowered to include only catastrophic coverage, which is less expensive than comprehensive coverage.
Corporations may elect to eat the penalties imposed by mandates. Healthcare costs have risen dramatically (from five to 17 cents of every dollar since the '50s), and many expect them to continue to rise. As a result, paying fixed penalties/fines/fees may be a better option for corporations than offering insurance to their employees. A Romney administration may either close this loophole, or lower the threshold of the current mandates to encourage more employers to offer insurance.
As we inch closer to Election Day, expect healthcare reform to remain at the forefront of the race. By studying the PPACA and the plan Romney enacted in Massachusetts, business owners (and all voters) can make informed decisions about which scenario they prefer.
Marrs Maddocks & Associates is a San Diego insurance agency with over 300 years of combined experience. MM&A offers business insurance, workers comp, personal insurance, and employee group benefits. We help business owners identify exposures, reveal unrecognized problems, and establish unanticipated solutions.