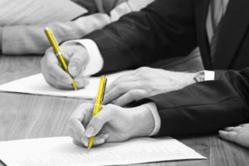 Insurance should be about building trust with our clients, not maximizing short-term profits through unscrupulous products.
San Diego, CA (PRWEB) April 11, 2013
The Carlsbad Chamber of Commerce celebrated its 90th Anniversary by presenting the prestigious "Business of the Decade" Award, as reported in the CarlsbadPatch. Marrs Maddocks + Associates, a San Diego insurance firm, won the Medium Business of the Decade Award.
The announcement of the award was greeted with much pleasure from both the staff at Marrs Maddocks + Associates and its clients. "We are honored to receive this award, which we believe is a direct result of the way we treat our clients," says Nancy Maddocks, Agency Principal. "The award is a testament to our company's values and philosophy, as well as the hard work and dedication of all our staff."
"I wasn't a bit surprised when I heard about the award," says Jan Hunter, owner of Chimney Rock, LLC, and long-time client. "All of their clients can testify to the great service Marrs Maddocks has provided over the years."
Not content to rest on their laurels, Marrs Maddocks + Associates recently published the results of a client survey. "We believe that insurance should be about building trust with our clients," says Maddocks. "We strive to build long-term relationships with our clients through quality products at fair prices and great service, and it shows in the feedback we receive from them."
The Marrs Maddocks client survey polled nearly 300 of their clients, asking a variety of questions ranging from satisfaction with company products and services to ideas for improvement. The results support the San Diego insurance company's commitment to customer service.
Eighty-five percent of the respondents said they chose to do business with Marrs Maddocks based on their outstanding customer service. Ninety-eight percent said the company "excels in responsiveness." Seventy-one percent gave Marrs Maddocks a "10" rating for the overall experience of doing business with the firm.
And 86% said they were extremely likely to refer the San Diego insurance firm to a friend or colleague.
"Our goal is to solidify a positive client experience going forward," says Maddocks. "The award we were honored to receive and the positive results of our client survey demonstrate that we've achieved this goal."
About Marrs Maddocks & Associates
Marrs Maddocks & Associates is an independent San Diego insurance agency with over 300 years of combined experience. Marrs Maddocks offers an educated, committed team that puts their clients first. They offer both business insurance and personal insurance from all of the major carriers. For more information, visit http://www.marrsmaddocks.com.