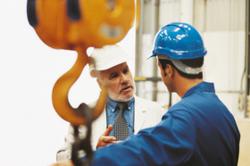 Workers' comp is a big cost of doing business; it may even be the largest. Many people feel like they're held hostage with respect to workers' comp—they think they have no way to control their premium costs, and that's simply not the case.
San Diego, CA (PRWEB) October 27, 2012
The recent news that the California's Workers' Compensation Insurance Rating Bureau (WCIRB) amended its 2013 rate filing to recommend no rate increase was greeted with delight by business owners, but Marrs Maddocks, a San Diego insurance agency, knows that businesses are still seeking ways to lower their workers' compensation premiums. Federal law mandates that any business with employees—even just one—must carry workers' compensation insurance, and while different states' programs may have varying elements, the intent is the same: to provide employees with a mechanism to gain restitution if they're injured on the job.
"Workers' comp is a big cost of doing business; it may even be the largest," said Pat Hurley, Vice President. "Can businesses be more proactive with respect to controlling their workers' comp costs? Many of our new or prospective clients tell us they feel like they're held hostage with respect to workers' comp—they think they have no way to control their premium costs, and that's simply not the case."
Marrs Maddocks makes the following suggestions to businesses wishing to trim their workers' compensation insurance costs:

Be proactive about limiting your experience, i.e., claims. To stop injuries from occurring in the first place, have your agent bring in carrier risk management and loss control experts to review your physical facility, looking at such things as ergonomics, industrial hygiene, and mechanical processes. They can determine where claims might occur and develop methods to eliminate them. Once you've created a site-specific risk management plan, make sure it's implemented and monitored.
Enhance your focus on safety. Schedule regular meetings and trainings that highlight safety procedures. Take a look at past claims and if you see a pattern, i.e., lots of back injuries, develop injury-specific in-service trainings to focus on these areas.
Maintain strong communication when claims do occur. One of the hidden costs of workers' comp is the loss of valued employees and the potential of having to hire and train people to take their place. Make sure to communicate with injured employees and validate their value to your team. To focus on getting an injured employee back on the job as soon as possible, interface regularly with the claims adjuster, carrier, medical provider network, and employee—to ensure everyone is on the same page. If employees become frustrated, they could retain an attorney and that person will be your new point of contact. You want to limit the time your employees are away from their jobs, receiving workers' comp benefits, and you also want to ensure the situation doesn't turn adversarial, which opens an entirely different (and expensive) can of worms.
Consider working with an HR consultant. Since your employees are the biggest factor affecting workers' comp costs, it behooves you to make smart hiring decisions. Remember, you're inheriting any past injuries your new hires have suffered, but if they get hurt on the job, it's your issue. A skilled HR consultant can assist with legally obtaining pre-hire information and developing screening programs, and can be invaluable throughout the hiring process.
Report suspected fraud. It's not unheard of for employees to try to "pull one over" on both you and the system by filing false workers' comp claims. If you have suspicions about whether a claim is legitimate, bring them to the attention of your agent and your carrier, which can investigate through its fraud division.
Marrs Maddocks notes that one reason to do all these things is to achieve the best possible experience modification factor from the WCIRB, which tracks employer claims experience and uses the data to calculate experience factors that tie directly into premium amounts. Employers that have significantly better claims experience can earn much better experience modification factors, which can equate to fairly dramatic savings. Employers that embrace the suggestions above as an ongoing, consistent part of their culture can sustain this type of experience and the resultant best possible pricing over time.
"As you might imagine, one of the most important decisions you'll make with respect to workers' comp is partnering with the right carrier, so you want to ensure you work with a broker that will present you with a variety of competitively priced proposals from a variety of quality carriers that reflect a broad palate of services," Hurley said. "Your broker may also be an invaluable resource to assist you with gaining control over your workers' comp costs; be sure to inquire about its services in that area."
Marrs Maddocks & Associates is an independent San Diego insurance agency with over 300 years of combined experience. Marrs Maddocks offers an educated, committed team that puts their clients first. They offer both business insurance and personal insurance from all of the major carriers.