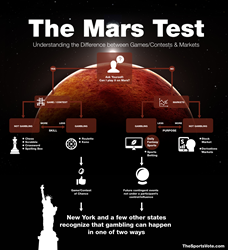 "Imagine Elon Musk gets his wish and we start sending people to Mars 100 at a time and have them disconnect from Earth." - Zack Ward
Hollywood, California (PRWEB) January 14, 2016
The Mars test is a framework explaining why daily fantasy sports (DFS) is likely to get caught in the net of the 'future contingent event not under one's influence/control' language in New York and states with similar language and why a market characterization could prove problematic for DFS at the federal level.
Zack Ward, who played Scut Farkus in A Christmas Story, is a close follower of the DFS industry and wants all participants and observers to consider the following: "Imagine Elon Musk gets his wish and we start sending people to Mars 100 at a time and have them disconnect from Earth. Inevitably they will get bored and start playing games. They can play chess if they have the board and the pieces or they can just draw on the sand and use whatever they find. They can organize a spelling bee. A group of 100 will certainly have some sports fans, too. But can they play daily fantasy sports?"
The New Sports Economy Institute, a 501(c)(3) non-profit organization established to teach finance through sports, introduced the "Mars Test" with the objective of answering the big looming question: "What is gambling?", at the heart of the DFS controversy.
Read more here: https://thenewsportseconomy.com/the-mars-test/