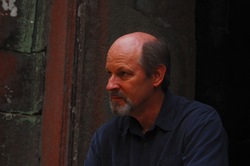 The stakes are high enough in Libya for God to speak again.
Boulder, CO (PRWEB) February 24, 2011
As civil war looms over Libya, religious leader Marshall Vian Summers claims God has delivered a revelation about the fate of the Libyan people. A modern prophet based in the United States, Summers is known for his claims of Divine contact and his vast library of "The New Message from God," some 8000 pages spanning three decades, from which he broadcasts an original revelation each month. Yet according to Summers, on February 22 a remarkable thing happened. That day, "an angelic presence descended powerfully" and delivered through him a message to humanity on "Rebellion, Revolution and War."
And on March 6th, Summers broadcasts the spoken revelation that God gave him. Summers himself is surrounded by eight modern-day apostles and at 10am that Sunday, a member of this community, William Burrows, will present Summers' revelation to the world via webcast.
Apparently, the stakes are high enough in Libya for God to speak again. And according to Summers' revelation, what God has to say is stark: war in Libya is but the preamble to greater wars. Resource depletion will strain the stability of the world. Climate change will destroy portions of global food production, leading to hoarding and shortages. And a desperate grab for Earth's remaining arable land, water and resources will ensue, triggering regional conflict on a scale never before seen.
Yet amidst this travail, Summers' revelation speaks of a great hope: the power of God itself. God, we are told, "can make the critical difference" by activating "a greater strength and a greater compassion which reside in the hearts of people everywhere." Perhaps this strength and compassion can light the way for today's many freedom movements. Yet Summers' revelation goes further, saying "receive God's revelation and do not condemn it at the outset for it is here to save humanity and to provide humanity what it cannot provide itself. It is a gift of the Creator of all life, for God has spoken again at a time of the greatest peril, change and challenge to the human family."
And yet what about the fate of Libya? And Egypt, Tunisia, Yemen, Bahrain and others to come? According to Summers' revelation, the power of environmental and economic decline will swell rebellions in the poorer nations of the world and "upheaval will overcome even the most powerful and resistant governments." From this we might infer that Qaddafi's days are numbered. Interestingly, God never mentions his name nor the factions involved, but refers to the Libyan dictatorship and others as "crushing and unethical regimes."
All told, Summers' revelation says that present day freedom movements will gain momentum and sweep into the history books the lingering despots of humanity. And yet it proclaims something more. It says the human spirit, stirred by the Creator, is our only hope in facing an uncertain future. Whoever flies their flag over Tripoli, one hopes they will be guided by such a spirit.
Those who want to know more about Marshall Vian Summers and his revelation for Libya can contact his organization at 1-800-938-3891 and society(at)greatercommunity(dot)org or tune into his live broadcast at 10am MST on March 6th.
###