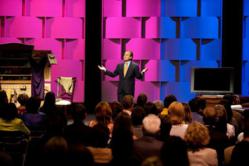 If you don't know the secrets of Gender Based Selling, you are leaving money on the table!
Toronto, Canada (PRWEB) February 09, 2012
Dr. John Gray, Bestselling Author of Men are from Mars, Women are from Venus, states "It's a fact. Men and Women are wired differently. They have different hot buttons; different emotional needs. They process information differently. If you are in business, and do not understand the gender-based thought process of your prospects, you're going to close fewer sales."
Science recognizes men and women perceive and react to situations differently.  Successful businesses recognize men and women make buying decisions differently.  These differences aren't stereotypes or created by environment; they originate from differences in the way male and female brains function.   
Sales Professionals cannot afford to miss this 1 Day Sales Training Workshop that presents research done by John Gray Ph.D. in the field of gender intelligence which highlights and explains the differences in male/female decision-making. 
To register for this workshop online, visit:https://www.marsvenusexecutivetraining.com/wp/workshops/
This workshop will examine in depth these important areas:
What is gender-based intelligence?
•  Why is gender intelligence important in a sales organization?
•  How does gender interplay impact sales closing ratios?
•  What can you do to use this knowledge to gain a competitive advantage?
 
Sales and Business Professionals will learn critically important facts, understand the implications of that information and develop strategies for using this data to obtain a competitive advantage in a highly competitive environment.
Participants will learn how specific physiological and psychological realities affect the sales process. 
Sales and Business Professionals who come in contact with customers on any level will benefit tremendously from attending this workshop "Mars Venus 1 Day Executive Sales Training". It will be held Wednesday, Feb.29, 2012 from 8:30am to 6:00pm at the Bayview Golf and Country Club. To register, visit this link: https://www.marsvenusexecutivetraining.com/wp/workshops/
Space is limited and pre-registration is necessary.
To receive more information on Mars Venus sales and leadership strategies, visit: http://www.MarsVenusExecutiveTraining.com
The impact of Dr. John Gray continues as his book will be released in movie format by Summit Entertainment.
There has never been a better time to incorporate Mars Venus Executive Sales Training into your business or corporation!
Register now for "Mars Venus 1 Day Executive Sales Training" on Wednesday, Feb.29, 2012 from 8:30am to 6:00pm at the Bayview Golf and Country Club by visiting this link:
https://www.marsvenusexecutivetraining.com/wp/workshops/
For more information, go to http://www.MarsVenusExecutiveTraining.com
Mars Venus Now
http://www.MarsVenusNow.com
Markham Executive Offices
400-3601 Hwy 7 East
Markham, Ontario
Canada, L3R 0M3
(416)-855-2659
###