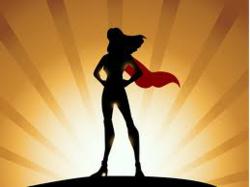 "I feel a greater emphasis today on feelings, emotions, love, creativity, and spiritual connections. Femininity." Dr. John Gray, Bestselling Author of "Men are from Mars, Women are from Venus
(PRWEB) March 01, 2012
Karen Leckie is a guest speaker today on the "New Superwoman" telesummit, which busts through the old myth of the superwoman who holds down a demanding career while running the family home. The "New Superwoman" lives life on her own terms, as is able to have peace, playfulness and prosperity to support herself and her family!
"The world will be saved by the Western woman" - Dalai Lama, 2009
It's true. Women are shaping the future of our planet. Dr. John Gray, Bestselling Author of Men are from Mars, Women are from Venus, quotes "I feel a greater emphasis today on feelings, emotions, love, creativity, and spiritual connections. Femininity." 
In the "New Superwoman" telesummit, Karen will share how women can stay connected to the gifts and skills of their femininity, without giving up their authenticity. This enables women to lead their lives authentically and contribute their gifts fully, whether they are working professionals, mothers or entrepreneurs. It starts with women leading as women, using their unique talents of collaboration, sharing, sensitivity, creativity and social recognition.
This telesummit is hosted by Maribel Jimenez and gives women the opportunity to learn how to tap into their unique feminine gifts without working harder…and with way more fun! Register here - http://thenewsuperwoman.com/ 
This Free Event is taking place from Feb. 21 – April 5th.
It isn't just a series of interviews, it's a 7-week path to take women from overwhelm to balance and it can happen in minutes. Click here to sign up.
This event is full of tools and strategies on how women can increase their peace, playfulness and prosperity! Be ready to be inspired and tap into your own Superwoman!
Click here to sign up for the "New Superwoman" Telesummit for increased joy and success in your business and life!
Mars Venus Now
http://www.MarsVenusNow.com
Markham Executive Offices
400-3601 Hwy 7 East
Markham, Ontario
Canada, L3R 0M3
(416)-855-2659
###