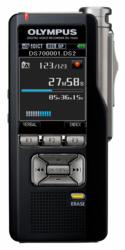 The DS-7000 is a topnotch, digital recorder geared toward high-end users who do a lot of dictation...
Yorba Linda, CA (PRWEB) May 31, 2012
In keeping with a long tradition of being the "go to" source for dictation equipment, Martel Electronics is now offering the DS-7000 digital dictation recorder, one of the next generation of Olympus devices designed to simplify dictation for professionals.
Martel Electronics has been at the forefront of providing the latest dictation and transcription technology since 1957. They were the first in the U.S. to introduce the German reel-to-reel tape recorder and subsequently became the go to source for several U.S. Presidents, including Richard Nixon. Martel has continued to be a reliable supplier of dictation machines to government officials, law enforcement agencies, and various trade professionals. In offering the DS-7000 as a part of their sales line-up, they expect the product will do very well with professionals seeking a high-performance recorder.
"The DS-7000 is a topnotch, digital recorder geared toward high-end users who do a lot of dictation," says Austin Smith, dictation manager with Martel. "For the typical, busy professional who doesn't have time to bother with software, this device is ideal."
The DS-7000, recently launched by Olympus, features several upgrades including an enhanced encryption feature which facilitates medical professionals' compliance with the HIPAA Act, and better voice recognition clarity due to the speech-optimized microphone. In addition the device has a larger, color LCD screen for better clarity of text and images.
"With this redesign, the DS-7000 is a truly advanced tool for lawyers and medical professionals. The device works well, allowing them to potentially increase their billing because they can effectively and quickly manage patients and clients," says Smith. "It is easy enough to operate that professionals don't have to go back to college to learn how to use it."
Martel is unique among dictation equipment companies in that they maintain stock of most dictation equipment and other products they offer. Customers in the Los Angeles, Orange County, California area can visit Martel's headquarters in Yorba Linda, CA and walk out with the DS-7000 or any other product(s) they are seeking. For more information about the DS-7000 and all dictation and transcripton products available from Martel, visit http://martelelectronics.com/.
Smith adds that Martel's legacy in the dictation transcription industry is demonstrated by the company's value-added customer support. They routinely customize and configure their clients' products, and make sure those products meet clients' needs before they leave the Martel site.
Smith says professionals will find much to be excited about with the DS-7000. Not only is it easy to use right out of the box but also has extra storage space for up to 200 dictation files, and a unique, 'last word' correction rewind; similar to the old tape recorders but easier and more efficient. The DS-7000 also includes dual memory card slots that allow for expansion of up to 32GB of total memory, a redesigned docking station, three programmable function buttons, and the ability to display information in English, French and Spanish. It offers full integration with professional digital workflows and is accompanied by next-generation Olympus Dictation Management Software (ODMS).
Martel also serves the law enforcement industry and is the world's largest manufacturer of police digital in-car mobile video systems. Police officers, detectives and other law enforcement professionals rely on Martel for police car cameras and other relevant technology that helps them do their jobs. More information on these products can be found at http://www.marteldigital.com/.
Martel also has a website targeted exclusively to judges, court transcribers and other courtroom professionals who rely on the latest technology to efficiently record trial proceedings. Products and services in this area can be found at http://courtmachine.com/.
About Martel Electronics:
Martel has a long history dating back over 52 years as one of the largest dictation and transcription companies in America. They were the first company to import the German reel to reel tape recorder, Uher. A landmark event took place when Martel was contacted to supply the 37th President, Richard Milhous Nixon with tape recorders for the White House. Martel was the exclusive distributor for Uher America at this time, and was headquartered on 1199 Broadway in New York City. Subsequently, Martel was required by congress to testify during the Watergate scandal.
Martel has since remained a favorite of American presidents, and is often referred to as "The Source." Martel has become a premier outfitter for various electronics to all branches of law enforcement and the United States government. In 1999, the company moved into its own state of the art building located in Yorba Linda, California. This was due to outstanding, continual growth, greater customer demand for their products, and expert knowledge. The company takes pride in being able to respond with modifications that their customers require. In addition, most medical transcription schools use Martel as their direct supplier for their students. Their ever-growing database enables Martel to send out more than 500,000 specialty catalogs yearly to their valued customers.