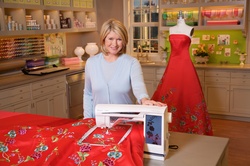 This superb machine is extraordinarily easy to use with numerous practical features that will excite and inspire anyone who enjoys sewing and embroidery.
NEW YORK (PRWEB) September 29, 2008
In addition, SVP Worldwide unveiled a new sweepstakes offering, inviting sewing and embroidery enthusiasts across America to visit their local HUSQVARNA VIKING dealer to experience the DESIGNER DIAMOND machine and enter to win a trip for two to "The Martha Stewart Show." To find the closest dealer, visit http://webservices.us.vsmgroup.com/DealerLocator.aspx?Brand=Viking.
The new DESIGNER DIAMOND sewing and embroidery machine gives sewers the fastest, easiest path from concept to completion through its generous capability, remarkable convenience and exclusive sewing innovations. Martha Stewart, founder of Martha Stewart Living Omnimedia, stated, "This superb machine is extraordinarily easy to use with numerous practical features that will excite and inspire anyone who enjoys sewing and embroidery."
Demonstrating the ease and beauty of embroidery during the show, Ms. Stewart created a pillow using a technique called THREAD VELVET™ embroidery, which was conceived by the talented embroidery designers at the HUSQVARNA VIKING Embroidery Center in Sweden. The embroidery design on the pillow used the THREAD VELVET embroidery satin stitch that was then cut to the background fabric using a seam ripper. When the satin stitch was exposed to a burst of steam from the iron, the layers of thread fluffed to look and feel just like velvet fabric.
Ms. Stewart demonstrated that with a touch of a fingertip or stylus, the DESIGNER DIAMOND™ machine will automatically embroider the sewer's creation on the largest sewing and embroidery surface available. Sewers now have the capability to create, view and customize embroidery designs on the largest and brightest, interactive VGA touch screen available in the sewing industry. The exclusive EMBROIDERY ADVISOR™ feature recommends needle, stabilizer, thread and more for perfect embroidery. The SEWING ADVISOR™ feature eliminates time-consuming guesswork as it instantly selects the best stitch and settings for the type and weight of fabric being sewn, and recommends the presser foot, needle and more for successful sewing.
Classic Embroidery Patterns, the first of a series in the Martha Stewart Embroidery line produced by Martha Stewart Living Omnimedia and SVP Worldwide, was announced by Martha Stewart when she attended the Annual HUSQVARNA VIKING International Dealer Convention in June 2008. At the convention, Ms. Stewart was presented with the world's very first DESIGNER DIAMOND sewing and embroidery machine and a commemorative book about the DESIGNER DIAMOND machine, which took more than 7,000 hours to develop and produce. Ms. Stewart wrote of her experience on her blog, The Martha Blog Up Close & Personal.
"Martha Stewart's recommended embroidery and monogramming patterns and products will beautifully enhance and personalize our consumers' projects," said Don Fletcher, Chief Executive Officer of SVP Worldwide. "Together we're inviting sewers throughout America to experience her new embroidery line and the new DESIGNER DIAMOND sewing and embroidery machine at their local HUSQVARNA VIKING dealer where they will find inspiration for all their creativity."
The Martha Stewart Embroidery line provides designs for monogramming and for frame, border, and corner artwork that allow for further enhancement and personalization of sewing and embroidery projects. These patterns include Scallop, Laurel, and Twist, three simple, graceful embellishments inspired by timeless embroidery patterns, as well as an elegant font—custom-designed to Ms. Stewart's specifications—for creating clean, beautiful monograms. More than 170 designs are included in this first collection.
Ms. Stewart and HUSQVARNA VIKING presented each member of the studio audience with their own personal copy of the new embroidery collection.
About SVP Worldwide®
SVP Worldwide, a global company headquartered in Hamilton, Bermuda and doing business through its affiliated companies in over 190 countries, specializes in the design, manufacture and sale of high quality household sewing machines and related products under the SINGER, HUSQVARNA VIKING, and PFAFF brand names. For more information about the Company and the company's brands view the following websites: http://www.sewingideas.com, http://www.svpworldwide.com, http://www.singerco.com, http://www.pfaff.com, and http://www.husqvarnaviking.com.
About The Martha Stewart Show
"The Martha Stewart Show" is a nationally-syndicated, daily "how-to" series anchored by segments that entertain, inform and inspire. Shot in front of a studio audience, the hour-long program's format allows audience members, home viewers and special guests to participate and interact with host Martha Stewart. Featuring movers, shakers and headline makers plus everyday people who've accomplished extraordinary things, "The Martha Stewart Show" sheds new light on subjects including cooking and entertaining, decorating, and home renovation and provides a forum for Martha Stewart's sense of humor, love of fun and desire to teach. Martha Stewart and Mark Burnett are executive producers. Bernie Young is co-executive producer. The Emmy-winning series is produced by "MSLO Productions, Inc." in association with Mark Burnett Productions and is currently distributed by NBC Universal Domestic Television Distribution to more than 95% of the country.