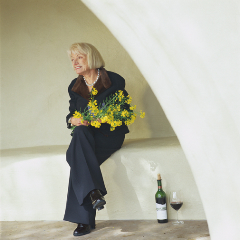 Edgartown, Mass. (PRWEB) September 3, 2008
Maggie White, president of The Edgartown Board of Trade, today announced the 2008 Martha's Vineyard Food & Wine Festival will welcome Margrit Biever Mondavi as Guest of Honor. Mrs. Mondavi will co-host the Festival Opening Reception on October 17 and a dinner entitled, "Food, Art and Wine," on October 18 with noted Wine Historian Nina Wemyss. The second annual Festival, produced by the Edgartown Board of Trade, will present more than 13 culinary events from October 17 – 19 in celebration of the fall harvest, highlighting leading vintners, Martha's Vineyard chefs, and specialty food purveyors.
Festival Opening Reception – Friday, October 17
The festival will open on Friday, October 17, at 5:00 p.m. with a reception at the Martha's Vineyard Museum - Small Plates from the Grill Grates. BBQ experts Andy Husbands, chef/owner of Tremont 647 in Boston, and Dante de Magistris, chef/owner of Dante in Cambridge and the soon-to-open Il Casale in Belmont, will grill island-raised meats, seafood, and produce for guests to sample. Wemyss and Mondavi will pour a selection of vintages and share stories with guests from the world of wine-making. Patrons can place bids on cases of rare vintages during a silent auction while listening to jazz music by Johnny Hoy and the Bluefish. Tickets are $100 and proceeds will benefit the Martha's Vineyard Museum.
Culinary Seminars – Saturday, Oct. 18
Culinary experts will present seminars in Edgartown galleries and restaurants on Saturday, October 18. Topics include chocolate and dessert wine pairings, beer and cheese, bread and olive oil, and a class on the lost art of mixing classic cocktails. Additional topics include sustainable seafood and the benefits – and challenges - of eating locally in New England.
Grand Tasting, Oct. 18 – Chefs, Vintners, and Cookbook Authors
On Saturday, October 18, from 1:00 – 4:00 p.m., the Martha's Vineyard Museum will host the Grand Tasting. Distinguished island chefs, including Kevin Crowell of Detente, Christian Thornton of Atria, and Anthony Saccoccia of The Grill on Main will demonstrate dishes prepared with local, in-season produce, meats, and seafood, highlighting each chef's distinctive style. Noted vintners will pour wines for guests including Rombauer Vineyards,
Duckhorn Wine Company, Liberty School Wine, and C. Donatiello Winery. Acclaimed cookbook authors, including Cathy Walthers, will conduct a book signing. Tickets are $100.
Farmers' Market and Brunch – Oct. 19
The Festival will close on Sunday, October 19, with a Farmers' Market and Brunch from 10:00 a.m. – 1:00 p.m. Martha's Vineyard farmers will offer their fall harvest for sale. Guests can also purchase prepared brunch foods a la carte.
Ticket Information:
For information and to purchase tickets, visit http://www.mvfoodandwine.com. Tickets may also be purchased in Edgartown at The Christina Gallery and at Martha's Vineyard Museum.
Please note: schedule subject to change.
Media Contact:
Sarah Leaf-Herrmann
The Idea Co.
T: 617.461.7254
theideaco @ hotmail.com
# # #