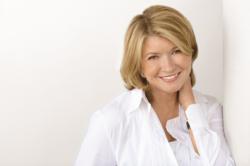 Green is not a trend...it should be, and will be, a way of life.
Scottsdale, Arizona (PRWEB) August 24, 2012
Coming in September to Green Living magazine, Editor-in-Chief Tishin Donkersley, M.A. talks one-on-one with Martha Stewart about a favorite subject─going green. With Martha Stewart's franchise focused on creating a beautiful home and balanced life, adding sustainable choices to one's repertoire isn't about the trend─it's about health and wellness and protecting the environment.
"Green is not a trend...it should be, and will be, a way of life," Martha states.
During the interview we learn more about Martha's love of pets, her mentor Julia Child, staying present in the moment, and tips on how to start going green in one's home.
"Martha was green before it was popular. With her love of gardening, she's been cooking with fresh produce for well over 20 years. One thing she believes is that healthy cooking doesn't start in a can or come from a box. We can all learn from that advice," Donkersley said.
Martha recently released her 77th book Martha's American Food. Recipes include a collection of her favorite traditional American dishes, along with a special narrative about the history or personal story behind each dish.
September is Yoga Month and in this month's issue, Deepak Chopra, M.D., an international expert in the area of mind-body healing, a best-selling author, and the co-founder of the Chopra Center for Wellbeing discusses "Awakening Through Yoga," and reviews his Seven Spiritual Laws of Yoga. In our feature "Yoga's Impact─On The Mat And Beyond," readers will learn more about the benefits of yoga from radio celebrities such as Johnjay Van Es (of the Johnjay and Rich show) who lost over 100 lbs. practicing yoga, as well as prominent yogis from around the country. Also in this issue, learn about bike-friendly communities, how to remodel sustainably, and brightening your skin with natural and organic beauty products.
Print subscriptions are available for $29 and $12 digitally. Visit http://www.greenlivingaz.com for more information and to comment on our stories. For the latest in green, follow us on PINTEREST,FACEBOOK, @greenlivingaz and our Editor-in-Chief @TishinD.
About Green Living magazine
Green Living magazine is a premier socially-responsible lifestyle magazine that strives to educate, empower and inspire communities to go green. We promote our health-conscious message through the LIVE, WORK and PLAY sections of the magazine and provide simple and applicable solutions to all things green.
Photo courtesy of Martha Stewart Living Omnimedia, Inc. and not to be reproduced without written permission of MSLO.
Phone: 480.840.1589
Email: submissions(at)greenlivingaz(dot)com