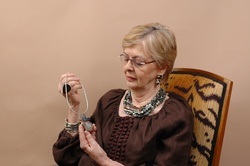 This is one of the most astounding collections of early American Indian jewelry ever assembled.
Santa Fe, NM (PRWEB) June 17, 2010
For more than a decade, Martha Struever's annual American Indian art shows have been one of the premiere places to be during Santa Fe Indian Market. This August will be no different as Martha Struever announces the opening of four exciting shows.
A legend among dealers and collectors, Marti has worked tirelessly for 35 years to bring the best in American Indian art directly to the collector. After decades spent driving the dusty roads of the Southwest meeting with little-known artists who would later become legends in their own right, Marti now runs her private gallery on a by-appointment and online basis. Once a year, though, Marti brings her own collection directly to the public through a series of themed shows held in the heart of downtown Santa Fe at the Eldorado Hotel's DeVargas Room.
This year's opening show is a one-artist exhibit dedicated to the works of Navajo artist Norbert Peshlakai. The show "Norbert Peshlakai: A Major Collection of His Work Spanning 30 Years" opens Wednesday, August 18 from 2 - 5pm and continues through Sunday, August 22. Curious collectors can expect to see remarkable jewelry, silver pots, and even a few paintings from the early, middle and late phases of Norbert Peshlakai's career.
Martha Struever's second exhibit should entice serious American Indian jewelry collectors. "Master Jewelers" opens Thursday, August 19 from 4 - 8pm and continues through August 22. The show features rare works by artists who defined Southwestern American Indian jewelry from the 1920's onward. Jewelry from storied Hopi artist Charles Loloma, Fred Peshlakai, Kenneth Begay, Julian Lovato, Frank Vacit, Morris Robinson, Juan Dideos, Lambert Homer Sr., Leo Poblano and many other acclaimed American Indian jewelers will be on display. In her decade of selecting jewelry to show and sell during Indian Market week, Marti says this group is nearly unequalled. "This is one of the most astounding collections of early American Indian jewelry ever assembled," Struever says.
In her third show, Martha Struever showcases the family heritage that is so unique to American Indian art. She's focused her keen eye on distinguished Hopi potter Dextra Quotskuyva. From the famous Nampeyo family lineage, Dextra Quotskuyva was the subject of Martha Struever's first book. In addition to the works of Dextra, Marti will also be exhibiting pottery from seven leading Pueblo and Navajo potters: Autumn Borts-Medlock, Jake Koopee, Samuel Manymules, Les Namingha, and Jody Naranjo, Virgil Ortiz, and Thomas Tenorio. "A Dextra Retrospective: Pottery over 35 Years" opens Friday, August 20 from 11am - 5pm and continues through August 22.
Martha Struever's final show for the season is intimate, personal, and extremely rare. Entitled "Marti's Jewelry," this presentation showcases pieces from her private collection. This is a unique chance for the public to obtain a piece of jewelry that was once worn and enjoyed by Marti. Admired for her great eye for spotting wonderful pieces of jewelry, Marti has selected some of her favorite items. Many have been off the market for years. This exhibit opens Friday, August 20 and continues through August 22.
# # #