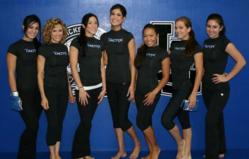 TACTIX is the perfect profit maker for fitness centers, personal trainers and martial arts schools
Rancho Santa Margarita, CA (PRWEB) February 04, 2013
Blending business, martial arts and a special bonus into a single package, the TACTIX business system now offers two months of free coaching on fitness business and personal success from fitness and personal development expert John Spencer Ellis. TACTIX combines martial arts fitness, practical self-defense skills, boot camp intensity, strength training and metabolic conditioning to help personal trainers, fitness instructors and martial artists improve their business practices , outreach and ability to help more people reach their fitness goals.
TACTIX is an online, self-paced training that includes video demonstrations, step-by-step plans for building a fitness business, a workout generator and more. This fitness business system offers martial arts fitness without any contact or sparring, making it safer, simpler and easier to implement than many previous martial arts fitness programs. In addition, there are no franchising or licensing fees.
"In the past, martial arts fitness programs had three inherent challenges: They were too hard to learn, too expensive to implement or didn't create a new revenue stream. TACTIX changed all of that by focusing on function, form, fun and profit, and it only gets better with the bonus of two months of personal coaching to help you with your fitness business," Ellis said. "I designed TACTIX as an effective business. I am pleased to offer a special coaching enhancement this year."
In addition to the exclusive coaching bonus, TACTIX also includes:
A turn-key fitness business system that is easy to implement
Full TACTIX instructor certification and a Certified TACTIX Instructor Global Directory Listing
Start-up TACTIX advertisements to get classes started fast
An exclusive community forum
Training videos that can be viewed online or downloaded to a computer
The opportunity to train multiple gym employees at once
And more.
Personal trainers, coaches and fitness pros can learn more about TACTIX and two free months of coaching at http://www.tactixmethod.com/.
About John Spencer Ellis Enterprises
John Spencer Ellis Enterprises is a solutions provider for fitness and coaching professionals around the world, providing education, turn-key business programs, coaching and resources for new and advanced fitness and coaching professionals. For more information about John Spencer Ellis Enterprises or TACTIX, please visit http://www.tactixmethod.com/