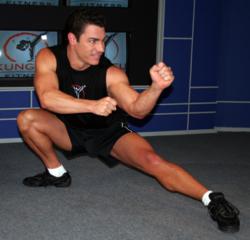 Kung-fu Fitness is a throwback to kung-fu fighting combined with a modern twist of a intense fitness class.
Rancho Santa Margarita, CA (PRWEB) November 22, 2011
Offering a true high kick for fitness and martial arts professionals across the globe, the Kung-Fu Fitness System from fitness and personal development guru John Spencer Ellis is now available free for the first time at http://www.kungfufitness.com.
The online Kung-Fu Fitness System combines ancient wisdom and modern science in an effective, safe and easy-to-learn exercise and business system that can be learned in about three weeks. The specialty classes can be taught in one-on-one training, small groups or larger group fitness classes in gyms, schools, community centers, spas and martial arts academies. There are no prerequisites for the program, although it is recommended that participants have an existing group fitness or personal training certification.
"I have combined my 12 years of kung-fu experience with my 20-plus years of fitness and exercise science training into this fun, effective and dynamic workout, which can inspire clients and boost income for trainers and teachers looking to expand their business in a challenging economy," said Ellis. "The system is designed to teach you how to operate your business in the way that serves you best and can be customized to your interests and talents."
The online fitness format includes a pdf manual and audio lessons; it is typically completed within two to four weeks, although there is no time limit. In all, the complete Kung-Fu Fitness System includes lessons on kung-fu warm-ups and fundamentals, combinations and choreography, core work, a consumer workout video, a detailed audio lesson on marketing, networking, social media and public relations, a video presentation and tutorial of specific teaching points and more.
"Kung-fu is easier on the joints than many martial arts practices, and it also includes several practical self-defense applications. It fits nicely into the current martial arts craze while providing great options for all levels and interests," Ellis added.
About John Spencer Ellis Enterprises and the Kung-Fu Fitness Business System
John Spencer Ellis Enterprises is a solutions provider for fitness and coaching professionals around the world, providing education, turn-key business programs, coaching and resources for new and advanced fitness and coaching professionals. For more information on the Kung-Fu Fitness Business system or for free ordering information, please visit [http://www.kungfufitness.com/
# # #