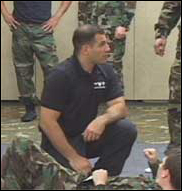 Even if you're a highly trained MMA Ultimate Fighter, the moment you try to grapple with a bigger man who is intent on killing you will be the last few moments of your life. Getting all tangled up, on hard ground, with the potential threat of a weapon certainly doesn't sound like a good time to be attempting an arm-bar or leg-lock to me.
Ramsey, NJ (PRWEB) April 4, 2007
This upcoming Sunday THE SOPRANOS will begin airing its final season on HBO. And notorious North Jersey martial arts and self defense guru, Lieutenant X of http://www.TopSecretTraining.com fame, couldn't be happier.
"I'm so sick and tired of clients, students, and friends from all over the world asking me if I know where Tony lives, show them the pork store where the gangsters hang out, and I've even been asked by a buddy to FedEx a slice of Lodi pizza."
However, the question that Lt. X never gets tired of answering is "How can I defend myself against a big violent man like Tony Soprano or one of his goons?"
Specifically, Lt. X says that "Many martial artists and self defense teachers out there will tell you that taking out a big Mafioso enforcer isn't any different than any other fight. But they couldn't be more wrong."
"While fighting a big man is never a walk in the park, fighting someone whose entire vocation is violence with fancy traditional kata, unproven street fighting methods, or even sport based mixed martial arts (MMA) techniques WILL get you killed."
So here's how Lieutenant X recommends "taking out" Tony Soprano…
1) Always assume the worst; that he's trained, armed, has backup, and is out to kill you.
2) You MUST initiate any action BEFORE he puts his hands on you.
3) From there you have multiple choices including stepping offline, twist & turn, finger dart, elbow spike, whip kick, etc.
4) Your movement must be explosive, immediate, and committed whether you are jockeying for a better position, creating room to run, or pressing the attack.
5) Drop the big calzone with multiple edge of hand strikes while continuing to take ground and drive him back on his heels.
"Gross movement strikes like this you will eventually open up a vital area (eyes, throat, groin, etc.) that you can land a hand yoke, chin jab, saddle kick, or vertical edge of hand and drop the mobster like a sack of salami," says Lt. X.
One of the most surprising revelations is that one should not "grapple" or use the more popular techniques seen in mixed martial arts competition when up against a bigger man in a street fight.
Lt. X reveals that, "Even if you're a highly trained MMA Ultimate Fighter, the moment you try to grapple with a bigger man who is intent on killing you will be the last few moments of your life. Getting all tangled up, on hard ground, with the potential threat of a weapon certainly doesn't sound like a good time to be attempting an arm-bar or leg-lock to me."
Lieutenant X's bonus tip? "If the big mamaluke tries to initiate a grab to pull you in, you hack that limb with your edge of hand strike without skipping a beat, then return your focus to his head, neck, collarbone area until he drops. Then get the hell out of Jersey before his goombas show up!"
These are just some of the tips Lieutenant X recommends when it comes to legitimate self-defense. For more information, or to schedule a lively and exciting interview with this former soldier, mercenary, and cancer survivor turned educator and world-renown martial arts instructor, please contact:
Chris "Lt. X" Pizzo
Noble Learning Systems Inc.
201-819-9785
http://www.TopSecretTraining.com
###