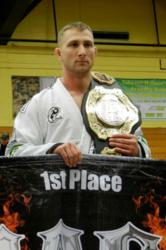 "Team Link is the best grappling school in the country" -MMA worldwide magazine


Hartford, CT (PRWEB) May 23, 2012
Many people are looking to mixed martial arts for an alternative to the typical gym routine. Regarded as the best MMA team in New England, Team Link BJJ, run by Marco Alvan and Gabriel Gonzaga, has provided the solution to the majority of them. More than doubling their students in just a few months, Team Link in Enfield, CT has become too big for their current facility.
"We owe our success to our students. Each time our student's represent us in competition, they prove that we are the best choice for someone who is looking for MMA or BJJ in the Hartford area. I owe it to my students to not only provide the best instruction possible, but to also provide them with the best facility I can."- Brian American
Since Team Link currently shares space with a wrestling club, the new facility offers freedom to add more classes as well as add to the programs which are currently offered at Team Link BJJ in Enfield.
"We currently have an incredible kid's martial arts program, a woman's self defense program, and of course the adults classes. However, in the new facility I will be adding more programs, more instructors, and more classes to help my students achieve all of their mixed martial arts goals. I ultimately want my students to be able to train whenever they get the urge.
The new facility will be over 3600 sq ft with plans to possibly add an additional 3000 sq ft in the future. This is the second announcement of a new mixed martial arts facility for Team Link as Marco Alvan opens his Team Link Training Center in Ludlow, MA this summer.
Team Link BJJ is offering a 30 day free trial. There is no obligation to sign after your free trial. If you are looking for Connecticut BJJ classes contact Brian American toll free at 1-855-528-5465. If you are looking for Brazilian Jiu Jitsu in Massachusetts, contact Marco Alvan at 413-589-0080.
About Team Link
Team Link BJJ was founded by Marco Alvan and Gabriel Gonzaga in 2005. Team Link provides instruction in mixed martial arts, brazilian jiu-jitsu, muay thai, wrestling, conditioning, kickboxing, and fitness. Team Link has branches throughout the United States and Brazil with its main headquarters located in Ludlow, MA run by Marco Alvan. Team Link Enfield head coach is Brian American.